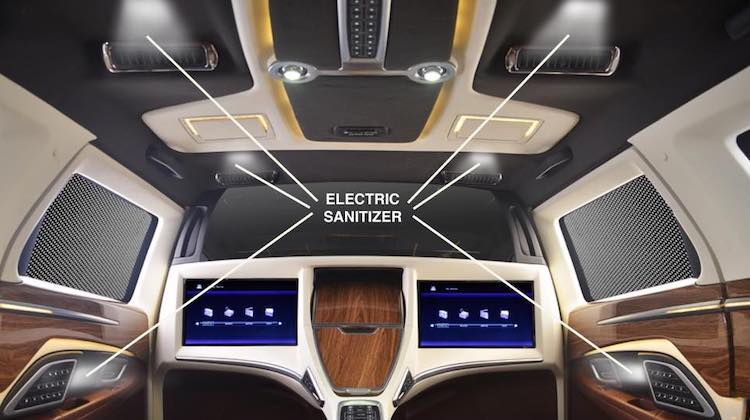 Automotive design firm DC2 has created the first "sanitized and distanced" car interior for germaphobe drivers.
The Indian company, which is renown for bold and quirky designs, unveiled the optional interior upgrade on its website in April.
It transforms the interiors of select cars into two seaters and equips them with a range of features intended to keep drivers and passengers free of the coronavirus and other harmful pathogens.
Among its features, the interior has six electric sanitizers that spray all common touch points every 20 minutes, as well as a medical-grade partition that separates the driver and passenger. What's more, the passenger seat is more than 6 feet away from the driver — this way, the cabin is still safe when the partition is lowered.
DC2 says the interior upgrade is available for the Toyota Innova Crysta and Fortuner; Mercedes-Benz V-Class; Kia Carnaval; and Mahindra Marazzo.
Custom orders can be placed for the Audi A8 and Q7; Mercedes-Benz GLS; Maybach; BMW X7 and 7-Series (extended wheel base); Volvo XC90, Jaguar XJL; Range Rover Vogue and Sport; and Rolls-Royce (extended wheel base).
DC2 does not list a price, but says all orders come with free disinfectant for a year. (But the Clorox wipes are on you!)
Yes, the whole concept is strange. But these are strange times…