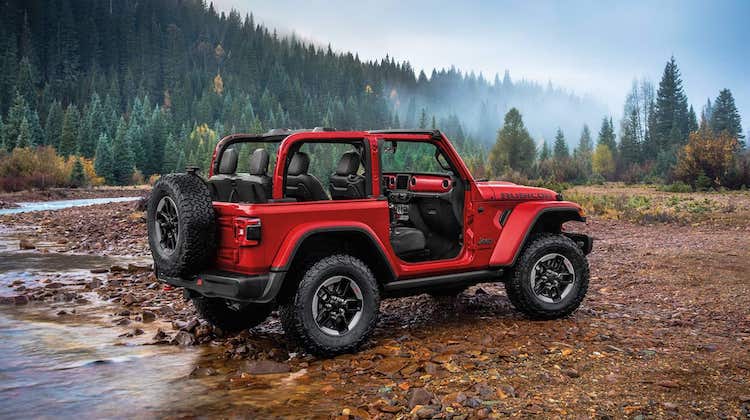 What options are available to Jeep drivers who want ready-made seat covers, but not in leather?
According to Torque, a blog powered by Quadratec, the five most popular alternatives are: neoprene, polycotton, ballistic nylon, vinyl and leatherette.
But each of these materials looks and feels different, and comes with its own pros and cons that drivers must consider.
Neoprene
The most popular material is neoprene, a high-grade spongy rubber that Torque says kind of feels like a diver's wet suit.
Because the material is malleable, neoprene seat covers fit exceptionally well, forming to every curve without bunching up.
"It is also extremely comfortable and regulates temperatures well to help you stay cool in the summer and warmer during the winter," says Torque. "Besides comfort and fitment, neoprene does a great job with water absorption so it is a solid shield for your Jeep's seats — especially if you tend to leave your top off a lot during the warmer months and there is a sudden pop up storm. Plus, should the covers get muddy or stained, they are easily removable for cleaning."
The only real drawback is that continued exposure to sunlight could fade the color. But a UV protection spray could help mitigate that.
Polycotton
Polycotton — a combination of polyester and cotton — isn't spongy or form-fitting like neoprene, but it's soft and more durable.
"Polycotton is highly breathable which works great during the long, hot summer to help you remain cool when sitting, and the material itself is UV, weather and mildew resistant," says Torque. "It is also treated to be stain proof and to provide a good barrier against the everyday abuse of pets and kids."
Best of all, polycotton seat covers are really easy to take off and toss in the washing machine.
Ballistic Nylon
No, ballistic nylon won't absorb the impact of a gunshot. But it's one of the more durable options available.
"Ballistic nylon covers [are] ideal for those who want to protect their seats because they do a fair amount of traveling with pets and children. Or, really anyone who hauls a lot of items and is continually loading/unloading things over the covers as the dense Denier Cordura material is abrasion, tear and puncture resistant," says Torque.
The covers aren't as snug or form-fitting as neoprene, but they are water resistant. And like polycotton, UV resistant too.
Vinyl
Vinyl is a longtime favorite, but has started falling out of favor in recent years. Still, it offers lots of benefits.
"That's because vinyl covers remain the easiest material around to clean and are not porous so they are essentially waterproof, while providing decent protection against ripping or tearing," says Torque.
"Vinyl seat covers also tend to cost less than other materials, so they can be a nice price-effective solution for those who do not want to spend a lot to protect their older seats — yet still want something durable."
The biggest drawback to vinyl is that it's not breathable and gets really hot in the summer, which can make them uncomfortable to sit on.
Leatherette
Leatherette, or faux leather, is pretty much the same as vinyl, except it's higher quality and features a soft, leather-like finish.
They "provide you with a top quality, premium appearance without the cost of adding new leather seats inside your vehicle," says Torque.
For some drivers, the premium look is enough reason to choose leatherette. But they're also easy to clean, waterproof, and resistant to mildew, stains and UV light.
If a driver doesn't want to splurge for leather, but loves the look, leatherette is the next best thing.
---
Quadratec sells high-quality, ready-made seat covers made from all five of these materials — which auto trim shops can buy at wholesale prices and resell to customers.
To learn more about Quadratec, visit Quadratec.com, and follow them on Facebook, Twitter and Instagram.