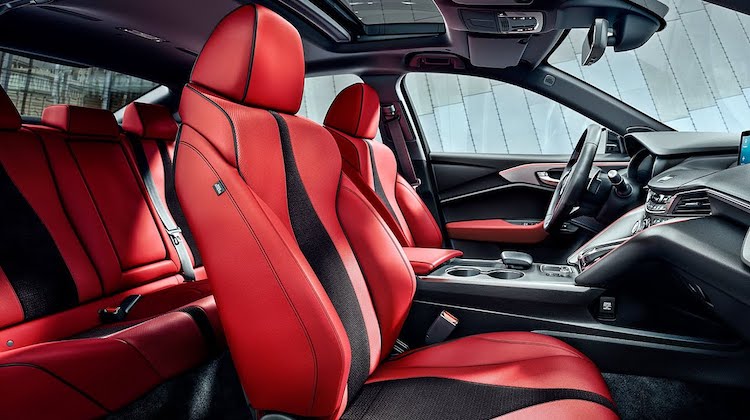 If you ever needed proof that a car's interior can make or break the driving experience, check out Business Insider's review of the 2021 Acura TLX A-Spec sedan.
The reviewer, Alanis King, had previously driven an Acura TLX with a plain black interior, and admits: "I wasn't into it. At all." Then she drove a recent model with a red interior and her opinion changed. She wrote:
There's just something about a red car interior that feels so special. You almost never see it coming because you expect blacks or camels or even mocha browns, but not reds. Red feels too ephemeral, too easy to grow or mature out of.
It's also a bold option to offer to Americans, who often choose the same damn crossovers in the same damn colors — white, gray, black, and silver — every time they buy.
With it, Acura gives buyers of one of its four main models — the ILX sedan, TLX sedan, RDX crossover, and MDX SUV — the chance to be different, and being different isn't a chance many car buyers take. That makes having the option even more special.
With black suede slicing up and down the interior and contrast stitching guiding your eyes back and forth across the car, the red A-Spec treatment feels deliberate both in design and in buyer choice. You don't option a red interior on your car because it's the safest way to go; you do it because you want to tell everyone there's still a little bit of fun left in you — and Acura's red leather feels almost like a recharge station for it.
The A-Spec package includes sports seats upholstered in red, perforated Milano leather, with black Ultrasuede inserts, contrast stitching and piping. It also features a leather-wrapped sports steering wheel with contrast stitching, among other unique interior trim.
Of course, trimmers make custom seat covers like this all the time. But to the average buyer, it's something really special that has the power to transform moods and the driving experience.
So don't let anyone ever tell you that interiors don't matter. They clearly do.
To read the full article, see: Driving the $47,000 Acura TLX sedan reminded me that all you really need in a car is a bright-red interior.