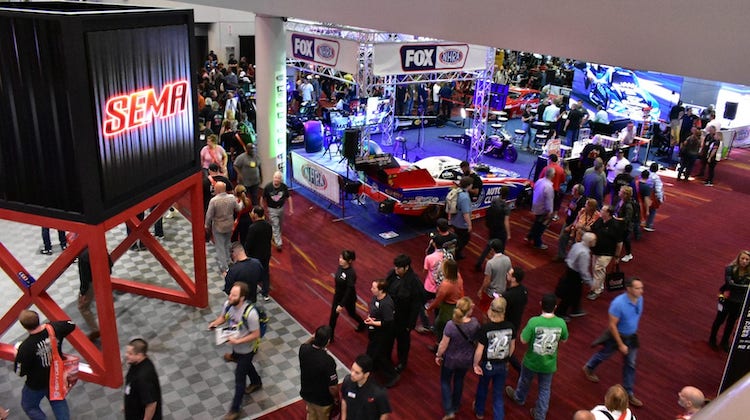 Exhibitors are dropping like flies from the 2021 SEMA Show, citing health and safety concerns amid the ongoing coronavirus pandemic.
In recent weeks, Spanesi, Boss Audi Systems, Kicker, Dan-Am Company and SATA have all withdrawn
Show organizers had already expected a lower turnout. Tom Gattuso, SEMA vice president of events, said last month that 1,600 exhibitors had registered for the show, representing a 15% decrease in net square feet of exhibitor space, according to Repairer Driven News. The decrease includes International exhibitors, who may not be able to travel abroad due to covid restrictions, and national exhibitors, who've had their marketing budgets slashed due to economic woes.
However, large exhibitors who had registered to attend are now starting to back out. In statements issued by these companies, many pointed to growing concern over the virus and the show's smaller size.
Spanesi
"Out of an abundance of caution for the health and safety of Spanesi's customers, distributors, business partners and staff, we have made the difficult decision not to participate in the 2021 SEMA Show," Timothy W. Morgan, COO of Spanesi Americas, said in a statement. "Given the uptick of COVID-19 cases in Clark County Nevada, the State of Nevada indoor facemask mandate [issued July 30], the prospects of Canada and Europe attendees being prohibited from entering the United States contributing to reduced show attendees, and other influential factors have led to the decision to cancel our participation."
Boss Audio Systems
"This is not a decision we have taken lightly as we have been attending SEMA for many years," Navid Farhand, EVP of sales and marketing at BOSS International Group, said in a statement. "SEMA has become one of the most important events we attend all year, and we always enjoy catching up with old colleagues, as well as having the opportunity to meet with new people and showing the world what we have coming up next year. Unfortunately, as a company, we have a responsibility to keep our employees safe and healthy, which is why we had to make the difficult decision of pulling out of SEMA this year."
Kicker
"Management continues to make the health and well-being of our employees and customers the top priority," Kevin Campbell, Kicker's director of global marketing, said in a statement. "This is a tough decision, but one we feel must be made."
Dan-Am Company and SATA
"After careful consideration, Dan-Am Company and SATA will not be exhibiting at SEMA 2021. Although this was not an easy decision to make, we needed to consider the rise in COVID-19 cases and our responsibility to protect the health of our staff, customers and business partners again this year," the companies said in a joint statement. "We very much look forward to the next SEMA show, and we plan to be there in full force in 2022."
Earlier this month, the National Association of Broadcasters (NAB) canceled their annual trade show and conference at the Las Vegas Convention Center, the same location where SEMA plans to hold its event from November 2 – 5. NAB made the decision to cancel the show after its two largest exhibitors, Sony Electronics and Canon, withdrew from the event. In a statement, NAB said the Covid-19 Delta variant "presented unexpected and insurmountable challenges" for organizers and exhibitors.
For now, SEMA appears committed — even excited — to host the 2021 show. Following last year's cancelation, many SEMA members are also eager for the industry to get back to normal.
"We have got a strong exhibitor base, and really good support from buyers, and the hotel numbers are supporting both of these things," Gattuso said. "That's a great sign for the show."
Although "we are seeing a lot of fluidity with the COVID landscape right now in Las Vegas, we see a good path to be able to have a very robust show."
The "fluidity" Gattuso is referring to includes changing covid restrictions and the number of covid cases in the city.
For now, SEMA has instituted a long list of health and safety measures, including indoor mask requirements, sanitization stations, increased space between booths and more. AAPEX, which is held the same week as SEMA, will require proof of a Covid-19 vaccination or a negative Covid PCR test. However, SEMA has not yet instituted that requirement.
But things could change. Gattuso said SEMA will continue to work with state and county officials and "do what the local and state jurisdictions ask us to do for live events."
It's that uncertainty that appears to be scaring exhibitors away.