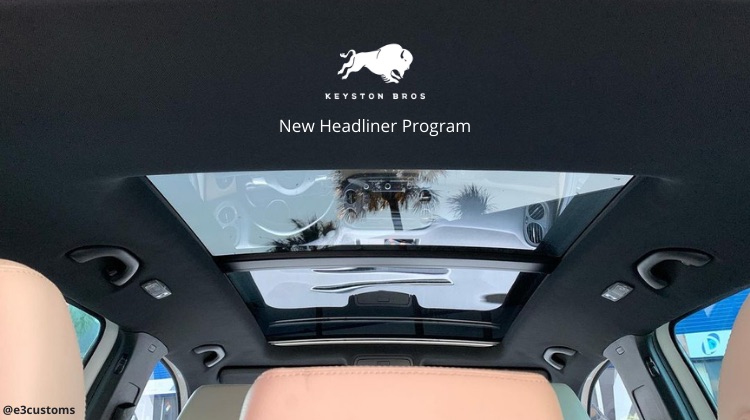 Are you tired of low-quality headliner fabric that looks and feels cheap? Then you need to check out Keyston Bros' new headliner program. Keyston stocks Brushed and Flat-Knit Headliner Fabric that is superior to most aftermarket offerings.
Their headliner fabric is available in 56 colors that provide a perfect match to most popular OEM and aftermarket shades. It's available on 3/16″ foam, with select colors available on 1/8″ foam.
What's more, the rolls come in an industry changing new width of 68″.
That's not all! Keyston Bros have expanded their line of American Classic Value Headliner to also include Flat-Knit colors. American Classic Value Headliners are available in 20 colors, on 3/16″ foam and have a width of 60″.
"We aim to provide trim shops with the very best materials and supplies available — no exceptions," said Brooke Kahn, VP of Marketing for Keyston Bros. "You won't find a better headliner fabric than our Brushed, Flat-Knit and American Classic lines."
"Try them out and see for yourself," she added.
Interested shops can contact Keyston Bros for samples, including a large poster.
Founded in 1868, Keyston Bros is one of North America's leading suppliers and innovators of fabrics, vinyls, leathers and textiles. They serve numerous markets, including automotive and marine. With 19 warehouses and branches across the United States, there's always a Keyston Bros location close by.
To learn more about Keyston Bros, and create a shop account, visit keystonbros.com. You can also follow them on Facebook and Instagram.