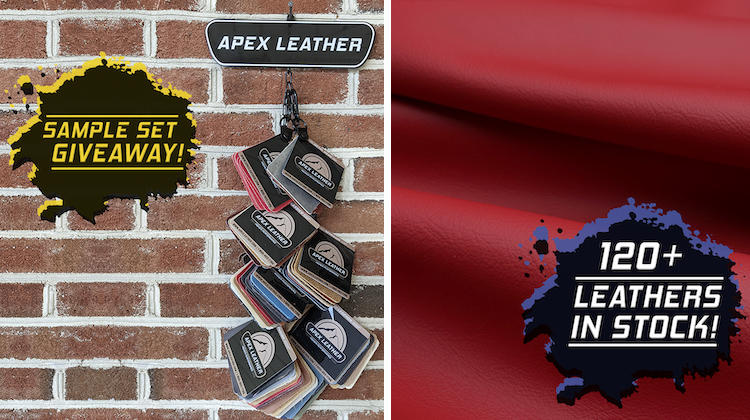 To celebrate its sponsorship of The Hog Ring, Apex Leather is giving away FREE Sample Sets to auto upholstery and fabrication shops.
Based in Hickory, North Carolina, Apex Leather is a leading provider of aftermarket automotive leather. The multigenerational company has decades of experience in leather production for automotive applications. (Yes, they're focused solely on cars!)
Apex Leather works with the best tanneries in the United States, Italy and Brazil to bring premium aftermarket automotive leather to trimmers at an exceptional price. They also finish leather at their facility in North Carolina, where their entire catalog of products is stocked and shipped.
"We're not an OEM supplier but instead provide aftermarket auto leather solutions for the full range of custom car and truck interiors, including mods, rods, and restos," said Hunter Schofield, president of Apex Leather. "We are proud to be used by many SEMA award-winning shops and leading trimmers in the industry."
Apex Leather offers auto upholstery shops a mix of smooth, natural, and pebble grain auto leathers that are sure to fit any project. Fusion, Apex Leather's popular Nappa smooth leather, is made in Italy, comes in nearly 50 colors, and brings a buttery soft feel with exceptional durability. Additional finishes include distressed, metallic, and perforated leathers.
That's not all! Apex compliments each leather with a matching Serafil thread in various sizes. They're also a proud distributor of Dinamica microsuede, the leading alternative to Alcantara. And in March, Apex will introduce a new square weave carpet to the industry.
However, what Hunter is most proud of is the Apex team. "What really makes Apex special is our people! At our core, we are a tight-knit group dedicated to making sure you are thrilled with your leather," he said. "We understand the challenges our auto upholstery shop clients face and strive to make sourcing leather the easiest part of every project."
All Apex products can be purchased on their website, but shops must first apply for a trade account to have access to trade pricing.
GET A FREE LEATHER SAMPLE SET
For a limited time and in conjunction with The Hog Ring, Apex Leather is excited to offer its full Apex Leather Sample Set, including Dinamica microsuede, to established auto upholstery and fab shops at no cost! (Normally $99 per set)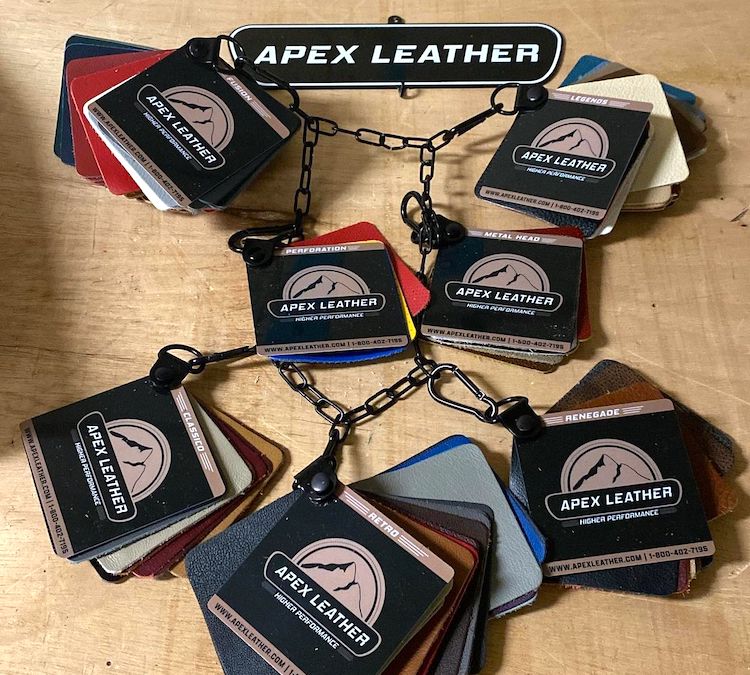 The 135 plus generous-sized samples are well organized and conveniently detach from the full set to make for a quick and easy leather selection. The set also includes Apex's powder-coated hanging mirror for a sharp-looking way to display and store your samples.
Get your FREE sample set:  Simply submit a trade application online by clicking here or call (800) 402-7195 to complete an application over the phone.
Sample sets are only free to auto upholstery and fabrication shops. Non-shop owners can purchase full or partial sets on the Apex Samples page.
Hurry, because the offer expires on March 1st.
SPONSORING THE HOG RING
Apex Leather is choosing to sponsor The Hog Ring because they believe in our mission to grow and strengthen the auto upholstery industry.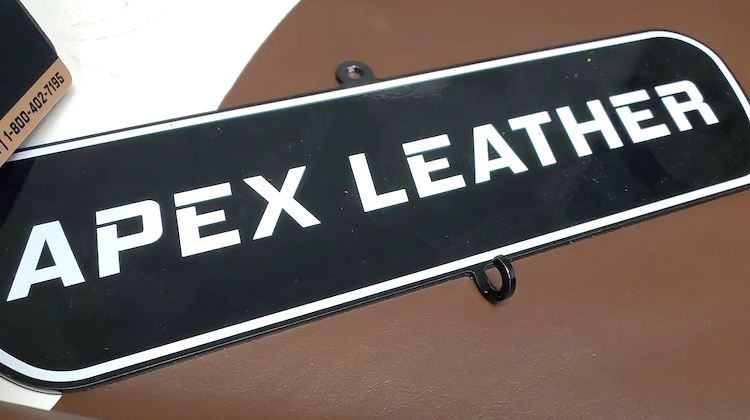 "We've been following The Hog Ring for many years, and are always impressed with the level of talent and cooperation in this community," Hunter said.
"Apex Leather is sponsoring The Hog Ring because this is where the trimmers and fabricators we work with call home. We are honored to be a part of that."
Their sponsorship will help offset the costs of running this website, and allow us to continue bringing you industry news, product reviews and more.
Please join us in welcoming Apex Leather to The Hog Ring community.
To learn more about Apex Leather, call (800) 402-7195. You can also visit ApexLeather.com and follow them on Instagram and Facebook.