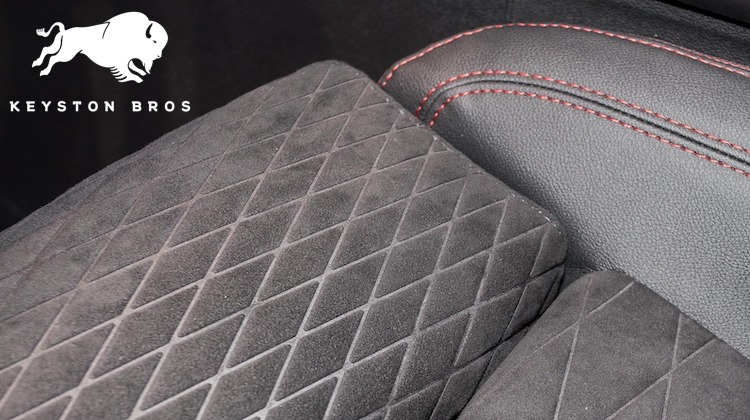 Auto upholstery shops across the United States have one more awesome reason to shop at Keyston Bros — they're now a USA distributor of Alcantara.
"We are thrilled to work directly with Alcantara  to bring their unique and popular microsuede fabric to the auto trim community," said Brooke Kahn, VP of marketing for Keyston Bros.
Alcantara is an Italian synthetic suede composed of 68% polyester and 32% polyurethane. In comparison to leather and other suede goods in the marketplace, Alcantara is easy to clean, offers more grip and durability, reduces glare on the windshield, and remains cool to the touch. It's also a popular choice for trimmers looking to add more texture to their interior designs.
Keyston Bros carries:
Alcantara Pannel — consists of a single, unbacked layer of material with stretch oriented along the width and bias. Its thinness and stretch make this fabric perfect for a range of automotive applications where clearance issues are a concern, including door panels, dashboards, and most hard surfaces. It's available in 45 colors and 2 perforations, MB-4 and S2000 Mini.
Alcantara Soft — Unlike Panel, this Alcantara fabric features a foam backing, which makes it slightly thicker (1/8″) but even softer to the touch. Alcantara Soft is best used as a headliner fabric. It's available in 45 colors.
"American trimmers have been requesting Alcantara for many years, and some have even been sold knock-off fabric. Now shops can rest assured they're buying the real thing," Kahn said. "We source our Alcantara fabric directly from Alcantara SpA and will have access to all their latest lines and innovations."
Founded in 1868, Keyston Bros is one of North America's leading suppliers and innovators of fabrics, vinyls, leathers and textiles. They serve numerous markets, including automotive and marine. With 19 warehouses and branches across the United States, there's always a Keyston Bros location close by.
To learn more about Keyston Bros, and create a shop account, visit keystonbros.com. You can also follow them on Facebook and Instagram. And don't forget to bookmark their Upholstery Supplies Catalog.
Related Stories: