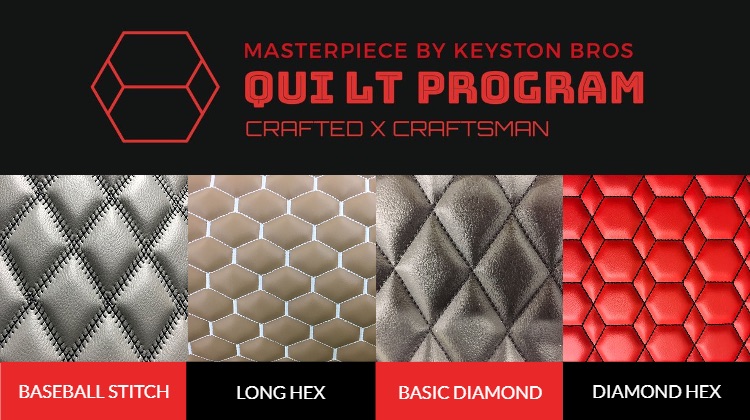 Are you losing your eyesight trying to sew hexagon pleats? Before you make another stitch, check out Keyston Bros' Masterpiece Quilt Program.
Through the magic of computerized stitching, Keyston's team is able to provide 4 unique patterns — including Baseball Stitch, Basic Diamond, Diamond Hex and Long Hex.
Trimmers can also choose from 4 vinyl and several thread colors:
Partners Black — with black, blue, red, silver, tan or white thread
Partners Tan — with black, saddle, tan or white thread
Partners Torchfire (Red) — with black, red or white thread
Autosoft Milled Pebble Med Flint (Gray) — with black, blue, dark gray or white thread
In total, there's 68 design and color combinations to choose from.
"Our Masterpiece Quilt Program allows trim shops to offer custom services to customers while saving time and money," said Madison Daniel, marketing coordinator for Keyston Bros.
"We've even expanded the program go beyond just panels. Trimmers can now order 54″ rolls by the yard — completely quilted!"
We're already planning to order an entire roll of black diamonds, which is our most common request. Imagine how much time that'll save!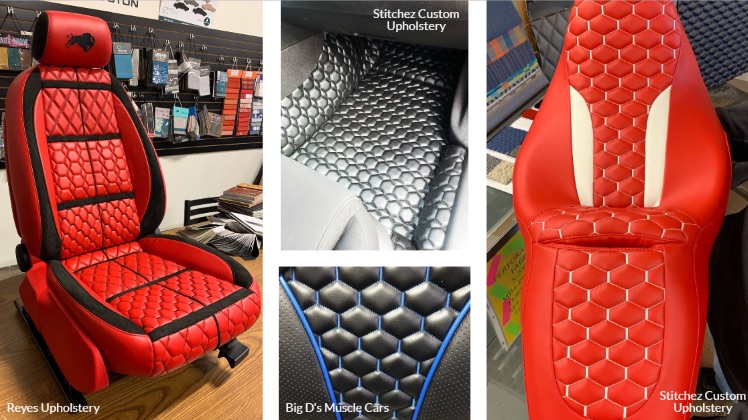 Founded in 1868, Keyston Bros is one of North America's leading suppliers and innovators of fabrics, vinyls, leathers and textiles. They serve numerous markets, including automotive and marine. With 19 warehouses and branches across the United States, there's always a Keyston Bros location close by.
To learn more about Keyston Bros, and create a shop account, visit keystonbros.com. You can also follow them on Facebook and Instagram.