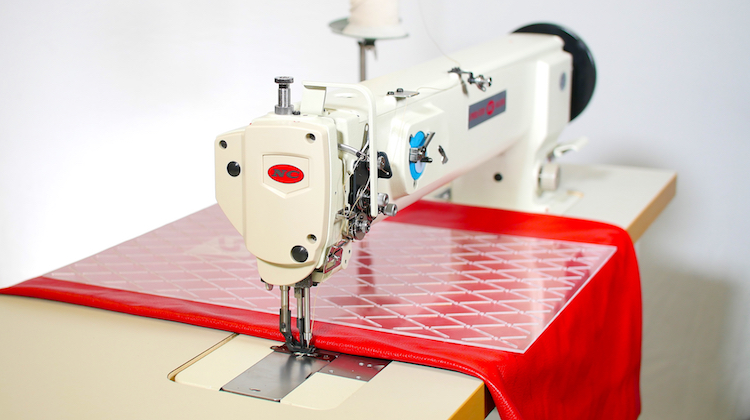 This month only, NC Carpet Binding & Equipment is offering special SEMA discount prices on all of their industrial sewing machines. You must call to save: 973-481-3500.
From May 1 – 31, enjoy steep discounts on their most popular models, including long arms, twin needles, skivers, sergers, and carpet binders.
"Many of the machines are being offered at the 2021 discounted prices. You don't have to wait until the SEMA Show in November to buy a new machine," said Mal Maher, CEO of NC.
That's not all!  You'll receive the NC 5-year limited warranty. Everyone who buys a sewing machine this month will also be entered to win a "Trimmer's Basket of Goodies" that contains quality tools, supplies, and swag:
Cordless leather & carpet cutter
1 roll of paint protection tape
Left-hand side top stitch foot
Welting foot of your choice
75th Anniversary NC Shirt & Sticker set
"We held a 'SEMA in May' in 2019 and it was well received. It provides a savings to shops who need it now. Being completely transparent, we may not exhibit at SEMA this year. If there's a mask or vax mandate reinstituted, we probably won't exhibit," Maher said.
TAKE A LOOK AT THESE DEALS!
See something you like? Act fast because these deals expire at the end of the month.
NC Long-Arm Sewing Machines
» NC6L:$5,250 / NOW $4,599
How about a 30″ long-arm? This is NC's biggest selling specialty unit.
» NC1508L25 Extra Heavy Duty: $5,750 / NOW $5,099
This 1508 class 25″ long-arm will make sewing any large project a breeze.
» NC5L: $5,750 / NOW $5,099
From straight stitches to zig zags, this 20″ walking-foot machine has you covered.
NC Twin-Needle Sewing Machines
» NC11: $3,500 / NOW $3,099
Sew French seams in ½ the time.
» NC11L:  $5,900 / NOW $5,199
Sew French Seams in ½ the time & sew deep with this 25″ long-arm.
» NC-POST: $4,500 / NOW $3,999
This twin-needle post-bed provides optimal maneuverability & makes exact turns.
NC Standard Arm Sewing Machines
» NC6: $1,850 / NOW $1,699
The same machine since the 1970s, this single-needle, walking-foot is a workhorse.
» NC1508NH Extra Heavy Duty: $1,950 / NOW $1,799
1508-class power allows you to sew even the heaviest goods with ease.
NC Specialty Units
» NC1646-OS: $14,500 / NOW $12,499
Set off any custom interior with this automated decorative stitch machine.
» NC553 Cylinder Bed Single Needle Sewing Machine: $3,500 / NOW $3,099
Want better maneuverability, but can't spend on a post bed? You've found it!
» NC7: $7,250 / NOW $6,499
For shops that need it, this extra heavy-duty lockstitch machine can sew through anything — even wood!
Other NC Machines
» SK2019 Leather Skiver: $1,600 / NOW $1,399
Get rid of unsightly bulk with this awesome leather skiver. It comes with a built-in vacuum system.
» NC1508NH-B Heavy Duty Carpet Binder: $2,500 / NOW $2,199
Everything the NC1508NH is, plus an additional binding attachment.
» NC 81200AIR Auto Mat Carpet Serger: $7,000 / NOW $6,299
This industry standard machine has been made in the USA for more than 70 years.
JUKI Sewing Machines
» JUKI 1508N: $2,700 / NOW $2,599
An extra heavy duty, single needle, walking foot machine that gets the job done.
» JUKI 1508NH: $3,350 / NOW $3,199
It's just like the Juki 1508N, plus a foot control knob and increased speed.
» JUKI LG158-1: $12,000 / NOW $11,500
A single-needle, 30″ long arm.
» JUKI LG158-2: $13,500 / NOW $12,950
A twin-needle, 30″ long arm.
In addition to its 5-year limited warranty, NC provides flat-rate shipping, interest-free financing, worldwide shipping and reliable repair service.
ORDER YOUR MACHINE TODAY
Have any questions about these machines? Call CEO Mal Maher at 973-481-3500 or email malmaher@nccarpet.com.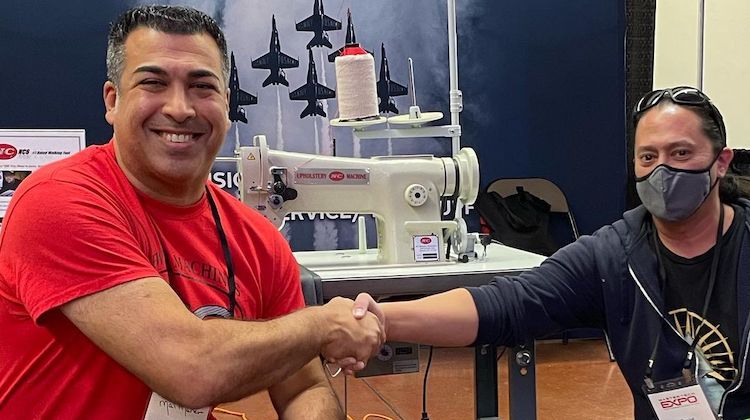 "Our machines arrive fully assembled; None of that knocked-down nonsense. They are triple checked before shipped and set to your specifications," said Maher.
To learn more about NC Carpet Binding & Equipment and check out their high-quality sewing machines, visit N-CCarpet.com and follow them on Instagram.  Also don't forget to tune in to NC's Podcast "NC Shop Talk."