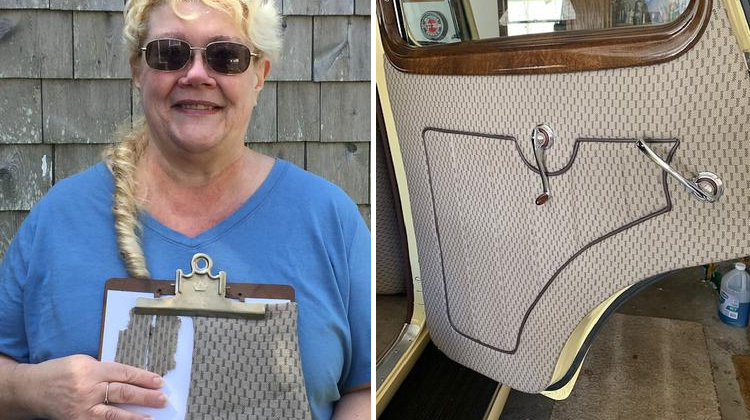 Mary Eaton of Deer Isle, Maine, is quickly making a name for herself as someone who can replicate discontinued fabrics for classic cars. In fact, her gift for it has earned her the nickname "Dream Weaver."
A profile of Eaton published by Island Ad-Vantages tells the story of how she helped restore a 1934 Studebaker President.
Bob Belling, the vehicle's owner, had spent a lot of time and money restoring its engine and exterior, but couldn't find an upholstery fabric that matched its original interior. That's when a looming company suggested he contact Eaton.
After they spoke, he sent her a small patch of the original wool fabric he found behind the vehicle's ashtray.
"To reproduce it, Eaton first had to locate the right color wool thread and determine how to recreate the pattern—an especially tough challenge, as the fabric was double sided. And, Belling needed 22 yards of it," according to Island Ad-Vantages.
"After a few months of pondering, Eaton puzzled out how she could make it. Several months later, she had the 22 yards ready, and Belling drove to Maine to pick it up. A professional upholsterer installed the new material, and it was perfect."
Since then, the Studebaker has been featured in countless car shows, garnering praise for its restored interior and high interest in Eaton's rare talent and service.
"The last order Eaton crafted for an antique vehicle was for custom-made trunk mats woven of raffia, a bear to work with as it easily splits and breaks," Island Ad-Vantages says.
According to the newspaper, Eaton isn't exactly a car person. Rather, she's an all-around creative whose skills just happen to be in demand by auto restorers.
She's been knitting since the age of five, when her grandmother taught her how to do it. But she also enjoys oil painting, weaving, hand-stitched embroidery, as well as making sea glass jewelry and Christmas ornaments.
Eaton's work can be found at the weekly Deer Isle Artisans Market and the Deer Isle Artists Association gallery. But if you'd like to commission an auto project, you should reach out directly on Facebook.