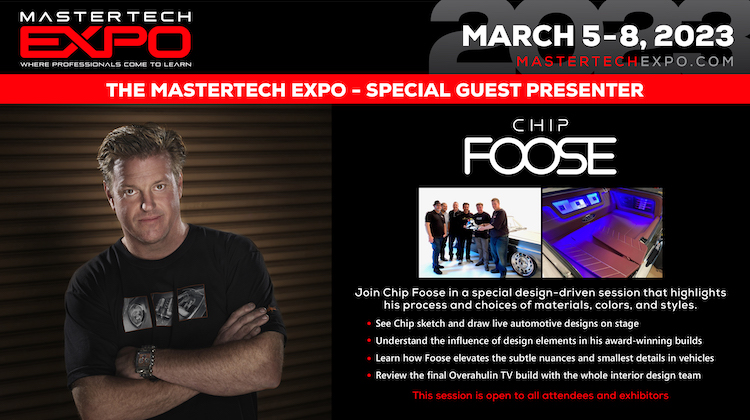 We've all seen Chip Foose's work and thought, "Damn, I wanna learn how to design cars like that." Well, here's our chance.
The award-winning vehicle designer and builder will host an exclusive design session at the second annual MasterTech Expo, the industry's premier event for pros to learn custom fabrication trends, tools and techniques. This session is open to all attendees and does not conflict with any of the other education session times. You don't want to miss it!
In his design session, Foose will take the audience through a series of live designs and sketches while overhead cameras display his work on audience-viewed screens. He'll also provide a unique and immersive look into his methods by revealing details about the final Overhaulin' build, Shaquille O'Neal's 1964 Chevy Impala.
"Chip is going to take the audience through the intricacies of the design elements, providing thought processes, tips and techniques that are typically valued as a designer's trade secrets," said Bryan Schmitt, event founder and CEO of MasterTech Expo parent company Mobile Solutions.
Of course, Foose will also answer audience questions, take photos and sign autographs too.
"This is an exciting opportunity to get inspired from one of the industry's most talented vehicle designers and builders," Schmitt said.
MasterTech Expo will bring upholsterers, fabricators, designers, 12-volt technicians, and more together to learn new skills that will elevate their work and increase their bottom line.
The event is comprised of three days of intensive learning and knowledge-sharing. There will be 30+ vendors exhibiting the latest tools and products, a ton of custom cars on display, a build-off competition, live music, contests, prizes, food and more!
If you attended the first MasterTech Expo, you know it's an amazing event. Well, next year's will be even bigger and better, with new workshops and instructors, and a ton more fun. Trust us, you don't want to miss it!
MasterTech Expo will be held March 5 – 8 at Mesa Convention Center in Mesa, Arizona. Click here to register.
Related Stories: