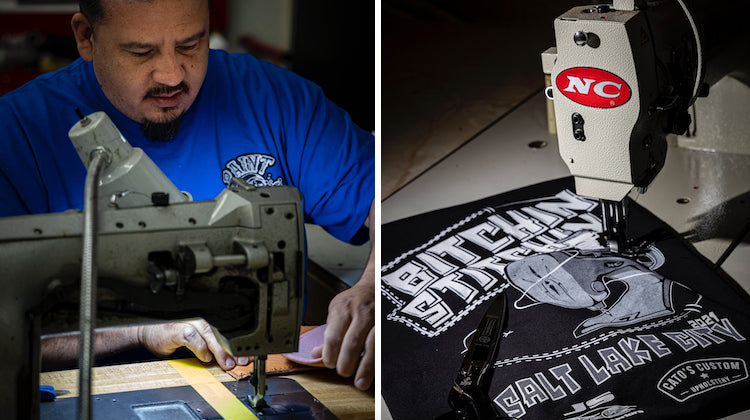 Have you been to a Bitchin Stitchin class yet? Then WTF are you waiting for?
Industry powerhouses Phil Cato of Cato's Custom Upholstery and Justin Stephens of JS Custom Interiors have scheduled their first Bitchin Stitchin class of the year — and it's all about building custom consoles.
Trimmers from across the US will gather on April 14-16 at JS Custom Interiors in Salt Lake City, Utah, to learn how to router, cut, glue, and assemble a complete console and wrap it in leather. It's the first time they're offering this class. Previous ones — on seat building and door panel fabrication — have sold out and garnered rave reviews.
"Whether you're a rookie or an experienced pro, this class will help you take your console builds to the next level," said Justin. "On the first day you'll start by learning how to make patterns. By the last day, you'll have built and wrapped a show piece."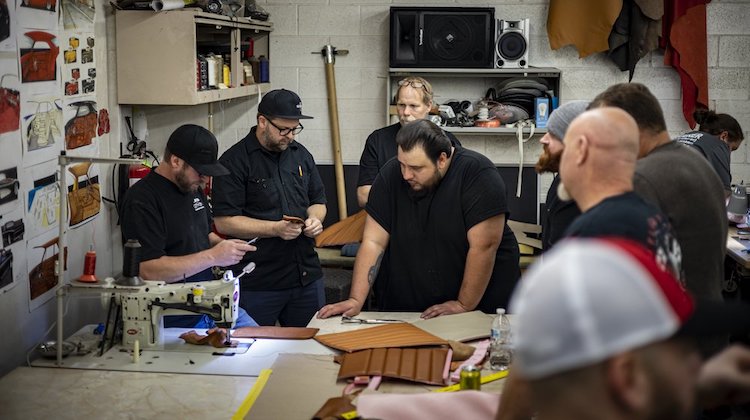 In addition to the skills you'll learn, the class also offers a unique opportunity to meet other trimmers who will become fast friends and colleagues. "That's the best part if you ask me," said Phil. "Over the course of three days of intensive learning, shared meals and lots of laughs, you walk away with a network of craftsmen who you can lean on for feedback and advice throughout your career."
NC Carpet Binding & Equipment, one of the event's sponsors, is going all out by giving away a $3000 sewing machine package.
"There is no better class for hands-on custom upholstery and interior fabrication," said Mal Maher, CEO of NC. "You're going to learn, have an incredible time, network, and this time you have a 1/25 chance of winning our extra heavy duty combination upholstery and carpet binder model NC1508NHB."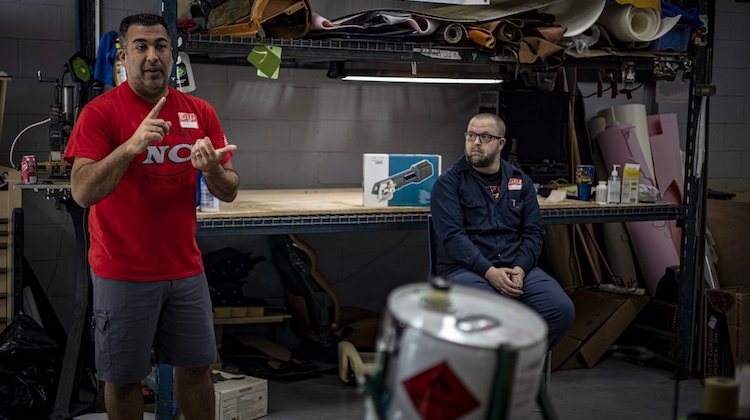 Mal said he not only wants to bless the lucky winner, but also show appreciation for Justin and Phil. "They asked us to support the class and we don't take that lightly," he said. "We're honored every time an auto trimmer chooses an NC machine to power his shop. What could be better than someone entrusting part of their livelihood to you?"
The course costs $1,600, but the lessons are invaluable. In fact, previous attendees can't stop talking about how great the experience was.
Check out what they have to say:
✂ "Even though we attended the seat class, we learned so much more. The best example was Cato breaking off into a full lesson on how to wrap a dash and hide the French seams. I took this and so many gems from that class and I'm excited for this one as well. Nobody leaves there wanting more. My goal is to be as good as these guys or better. These classes have made me better and taught me so much." — Anthony of Supreme Stitchworx Upholstery
✂ "The Bitchin Stitchin classes are  hands-down the best place to learn about anything in the automotive upholstery world. The amount of knowledge and experience provided at these classes is second to none. Cato and Justin cater to both seasoned and new trimmers and all skill levels in between. … The only way to become a great trimmer is experience, and these classes are  a shortcut where you can learn from people that are at the pinnacle of custom upholstery and have a lifetime of experience and knowledge." — Chris of Lucid
✂ "This is one of the most entertaining and informative classes that I've attended. We use varied composites, materials and important practical skills that are extremely helpful in the custom automotive upholstery world. The camaraderie, enjoyable atmosphere, and networking benefits are an added bonus to this highly recommended class." — Victor of Velvet Vicks
✂ "I was lucky enough to have been in the first three classes of Bitchin Stitchin. I was a pretty new upholsterer and so I got so much helpful information and practice. The combined teaching of Justin and Cato, along with the help of all the other upholsterers in the class was invaluable. I learned so much and met so many cool people, some of who I am still in contact with. I feel like I could reach out (and I sometimes do) to anyone in any of my classes if I have a question, and vice versa. I'm not sure there is really any other opportunity quite like this one." — Monica Linton of Stitchin Kustoms
✂ "It's a must-go to class for everyone, from beginners to hobbyists to seasoned professionals. There's such a wealth of knowledge to learn from Justin and Cato, and it's a great way to network with other amazing people in the industry." — Troy of Interiors by Troy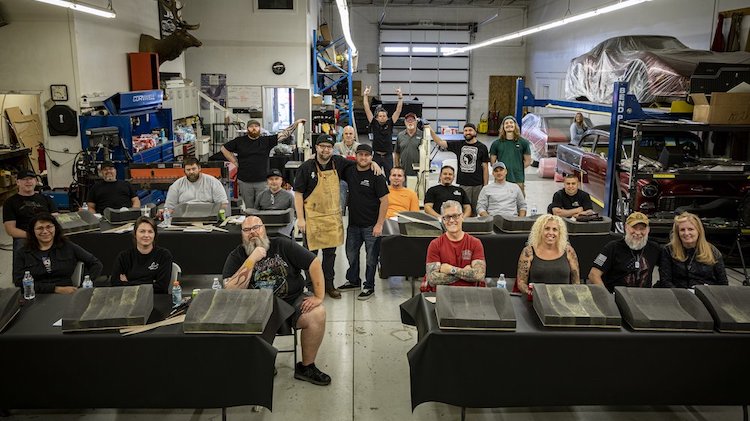 If you're serious about growing your skills and business, click here to register today. The class is nearly 2/3 sold out
"Knowledge is the key to success," Phil said. "I guarantee we will all learn something to help advance our careers. We look forward to seeing you there."