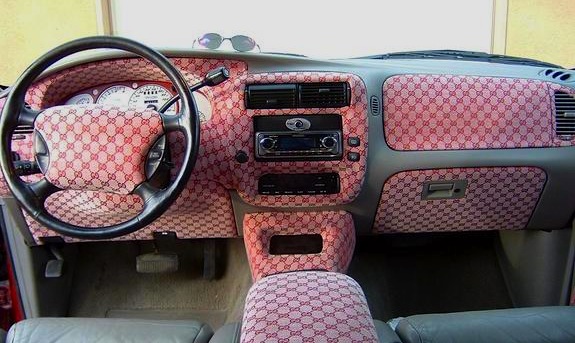 While The Hog Ring aims to showcase some of the best custom auto upholstery work out there, we also think it's fun to highlight the worst. Not just because it's funny, but also because it can provide a lesson or two on what not to do. Take, for example, this Gucci-lined Ford Explorer that belongs to José of Albuquerque, New Mexico.
Given the expense of Gucci fabric, it's typically reserved for higher-end vehicles. José, however, had high hopes for his Explorer – which you have to admire. By lining the interior with pink Gucci fabric, he tried to bring a level of class and sophistication to his ride that's not often seen in SUVs like it.
While his vision was admirable, the execution was poor – laughable really. He intended to use the Gucci fabric as flair, but wound up using so much of it that the cabin looked only half complete. In José's defense, he also planned on changing the carpet's color to red and adding matching Gucci inserts to the seats, but totaled the vehicle before he could get around to it. (It probably wouldn't have made much of a difference anyway.)
Though we're not sure what caused José's accident, we're betting that it had something to do with distracting optical illusions forming on his dash. In retrospect, it was probably for the better.
Still, we're thankful for José and his gaudy Ford Explorer. Through his experience, we're able to see that even the best fabrics, when not properly integrated into a cabin's design, can spoil its looks. And, when it comes to flair, there definitely is such thing as overkill. The craftsmanship, though, is there.
Don't worry, only José's pride was injured in the accident.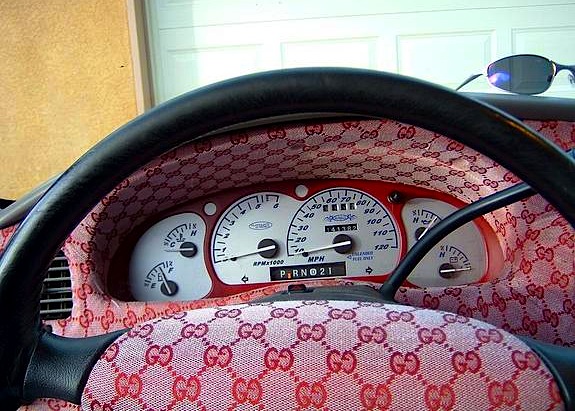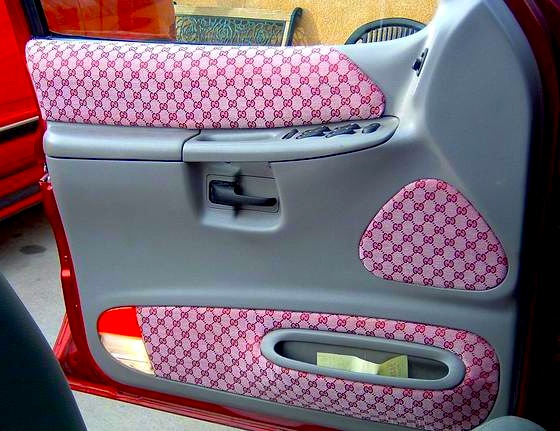 — — —
The Hog Ring is the #1 online community for auto upholstery professionals and enthusiasts. Here you can browse pictures, read news and connect with others who share your passion for auto upholstery.