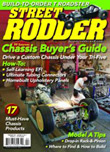 I just picked up the latest issue of Street Rodder Magazine and found a great article about building custom door panels with Tony Arme of Hot Rods by Dean using products provided by Hagan Street Rod Necessities.
Pete Hagan, renowned street rod designer and owner of Hagan Street Rods, has created a simplified formula for designing door panels. He has introduced a line of products supplying you with everything you need to make your own custom door panels – including base panel board, custom-formed armrests and an array of precision cut 1/8" board designs. Combine the pieces and use your imagination to make your own one-off design.
Visit www.haganauto.com for prices and detailed how-to videos that describe the process step by step. While you're there, be sure to check out Hagan's latest creation – Coopster, a one-of-a-kind handmade street rod with an electric retractable hard-top roof.
— — —
The Hog Ring is the #1 online community for auto upholstery professionals and enthusiasts. Here you can browse pictures, read news and connect with others who share your passion for auto upholstery.