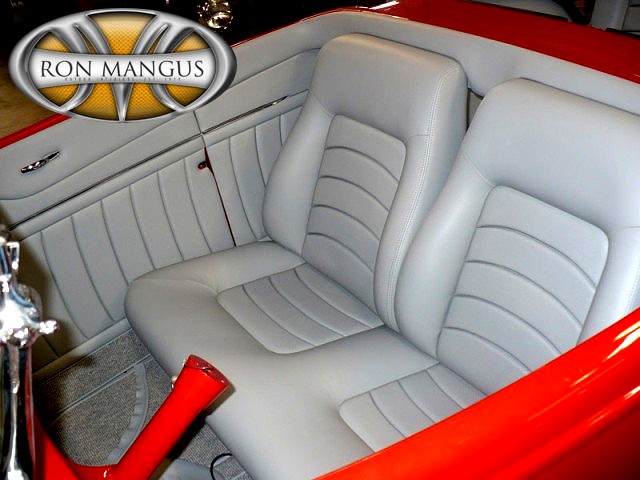 Legendary interior fabricator Ron Mangus is back at it – this time offering a how-to seminar on seat building and design. Believe us, if there's one person you want pick up a few tricks from, it's this guy. His award-winning designs have been featured in magazines from Street Rodder to Super Chevy, and he's also written a couple books himself.
The last time we told you about Ron, he was offering classes on headliners, seat foaming, carpet and door panels. However, his latest seminar promises to be the crème de la crème of auto trim seminars. Details below:
Ron Mangus Seat Building & Design Seminar
Saturday 9.10.11 and Sunday 9.11.11
Ron Mangus Custom Interiors – Rialto, California
We have been working dilegently on creating a Fall Schedule for you, but we were just too excited to wait any longer to share! Starting in September 2011, we will offer a two-day weekend seminar for you to come and learn Ron's Tips and tricks of the trade.
This newly designed seminar is structured to teach you the entire process of seat buidling & design, from start to finish. Each seminar will include the following:
* Two – 8 Hour days of hands on, interactive instruction
* A Seminar Reference Guide
* A Q & A Session with Ron Mangus
* Lunch each day
* A Certificate of Completion
* And of course, lots and lots of information
Contact us by email to get registered! stitcherseminars@yahoo.com
Investment is $349 Deposit of $150 reserves your seat with the balance due at the seminar.
For more on Ron Mangus, check out Ron Mangus Custom Interiors. Also, keep your eyes peeled for The Hog Ring's exclusive interview with Ron Mangus himself – coming soon!
— — —
The Hog Ring is the #1 online community for auto upholstery professionals and enthusiasts. Here you can browse pictures, read news and connect with others who share your passion for auto upholstery. You can even check us out on Facebook and Twitter!