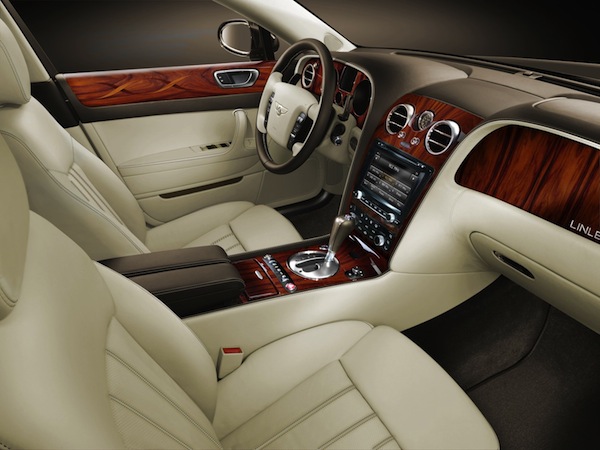 With so much fiberglass and plastic in today's cars, it's easy to forget that interiors once featured intricate woodwork. In fact, it used to be that auto trimmers needed carpentry skills in order to build, fix or customize vehicle interiors. But as automakers sought to make their cars more affordable, wood styling either disappeared entirely or was replaced with stickers and plastic parts designed to look like the real thing.
Thankfully, super luxury cars – like those made by Bentley – have kept the practice alive. And while few of us will ever have the chance to own one (or even work on one), they remind us that auto trimmers come from a long tradition of artists and craftsmen. Besides, who says we can't look at what high-end automakers are doing and incorporate elements of their designs into our own work?
In a press release issued earlier this month, Bentley announced that it was teaming up with British furniture design company Linley to create a limited edition of 10 Continental Flying Spurs.
Their description of the woodwork involved in the feat is mighty impressive:
Specially selected Linley veneers in Santos rosewood are being applied to the fascia, consol, waistrail and roof console and integrated within the cars for the first time. The veneers cover the entire wood surfaces of the model, where Bentley chestnut or walnut would normally be used. […]
The iconic Linley Helix motif has been taken from the distinctive Linley Helix Furniture Collection and is being set, using the highly specialised skill of marquetry inlay, into the waist-rails and picnic table of the Flying Spurs. The Helix pattern is made up of four different types of veneer which contrast with the Santos rosewood to show the wave effect delivered by the marquetry. […]
"The car had to look different and we wanted a strong statement inside the interior, so we chose Santos rosewood, a straight grain veneer. Bentley usually uses burr veneers for their interiors as they are more malleable around compound curves. Using a straight grain veneer was a new challenge but together we succeeded and the final results look stunning." [said Mark Blanchard, Head of Design at Linley]
Stainless steel Linley treadplates will feature on the cars, as will a Linley for Bentley rhodium-plated plaque in the glove box. Modified fluting on the seats will feature burnt oak contrast stitching, with additional burnt oak hide accentuating the storage areas and door pockets. [more]
What want to hear from you: As an auto trimmer, have you found that carpentry is an essential part of the trade? If so, what kind of woodwork have you incorporated in your designs?