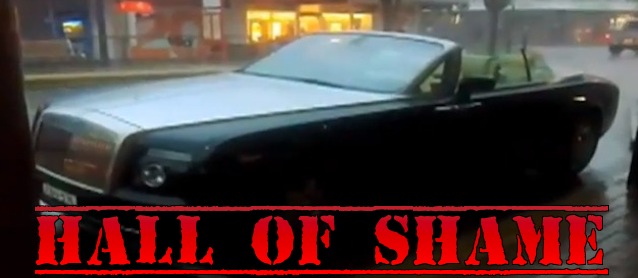 Two "Hall of Shame" posts in a single week? I wish it wasn't so – but how else would you categorize the following story?
According to local reports in Adelaide, Australia, some bonehead left the top down on his Rolls-Royce Phantom as he ran into a nearby cafe to escape the rain – causing up to $100,000 in damage to its interior.
Australia's 9News reports:
Several passers-by noticed the soaking Phantom Drophead Coupe, which was left for at least half an hour outside a Glenelg cafe, with some uploading footage to YouTube this month.
John Barsoumian, owner of Car Interior Plus in Sydney, told reporters that depending on how much damage the rain caused, the owner's insurance company may choose to scrap the luxury car altogether.
"It could cost up to $100,000 if everything was damaged," he said.
"You won't know until you start assessing the damage. It could definitely also affect the electricals of the car and depending on the agreement and the way the car's insured it could be written off."
Mark Bonello, director at Sydney Motor Trimmers, agreed – saying that a set of new leather covers alone would cost $40,000 to $50,000.
Still, something tells me that the owner this wet Phantom isn't too concerned – as he clearly has money to burn.
For a laugh, check out the comments left on the YouTube video. My personal favorite comes from Eametsa:
"Anyway it has full leather, it should repell rain, electronics will get a bit humid, i agree, but i dont think theres much damage if he lets it dry out or something."
Yeah, leather works something like that…