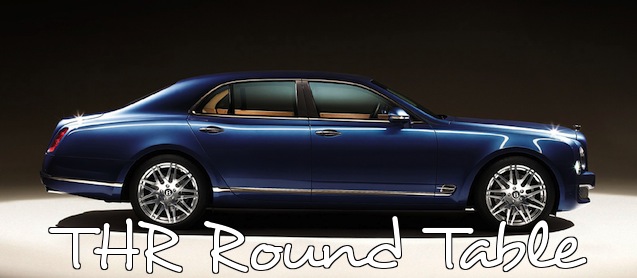 News that Apple is hiring automotive engineers to develop an "iCar" infotainment system has taken the tech blogosphere by storm. But car guys like us know that this isn't the first time Apple products have been incorporated into a vehicle's cabin. Last year, Brabus tricked out the interior of a Mercedes-Benz S-Class to create the iBusiness 2.0. Now Bentley is getting in on the action with news that it's putting its Apple-inspired Mulsanne Executive Interior Concept into production.
Aside from the typical super luxury accoutrements you can expect to find in a Bentley vehicle, the Mulsanne Executive Interior features a Mac Mini computer, numerous HD LED screens, USB ports, iPads, Bluetooth wireless keyboards, Apple Magic trackpads and an iPad Touch that allows easy navigation of all the technology by means of a unique Bentley 'App'.
As if that wasn't enough, the cabin also features a limited-addition Tibaldi fountain pen and luxury bottle cooler with space for two full-size Champagne bottles and three hand‑blown and hand-cut lead crystal champagne flutes. You know, just in case you get thirsty…
THR Round Table: Check out the the following pictures of the Bentley Mulsanne Executive Interior and tell us if you think the design is awesome or just overkill.