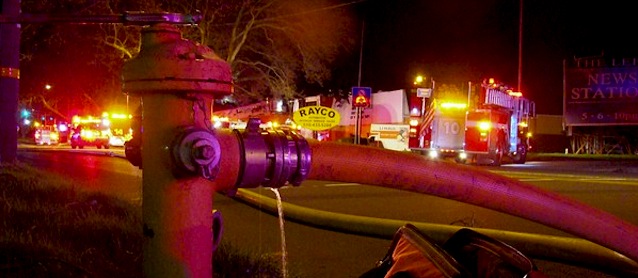 Rayco Auto Repair of Allentown, Pennsylvania suffered a devastating fire on Tuesday night – badly damaging offices and workspace. Thankfully, no one was injured.
While the two-alarm fire was eventually subdued, heavy winds caused the fire to spread fast. "The fire got up in the roof and started to run on us with the winds tonight," city fire Lt. Jack Bryant said. "So we needed to get ahead of it, mostly as a precaution."
According to local-newspaper The Morning Call, "Officials said vehicles were in the garage during the fire. Rayco repairs cars, installs upholstery and convertible tops, and also sells some vehicles."
Investigators are still trying to determine the cause of the fire.
Protect Your Shop
Our thoughts and prayers go out to the owner and operators of Rayco. We hope that you rebuild and come back bigger and stronger than ever before.
Situations like this are always tough. As shop owners, we take steps to fire-proof our businesses, but there's always a chance that one will break out. The glue, cleaners and other toxins we stock only add to the worry.
That is why it is absolutely necessary that we regularly review our insurance policies to make certain that they cover the value of our buildings, products, tools and customers' cars.
If you haven't already, read "Guarding Your Shop From Natural Disasters". It provides some helpful advice on how to limit your losses in the event of a fire.