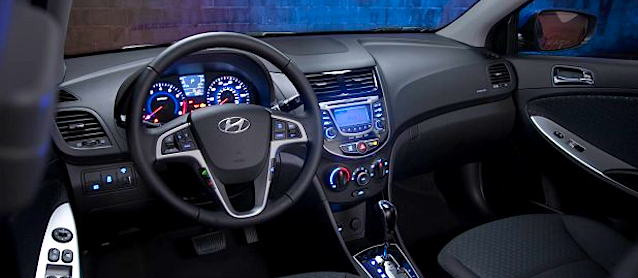 With the 2012 WardsAuto Interiors Conference quickly approaching, editors at the industry publication have already announced their picks for the 10 best interiors of 2012. This is the second year that WardsAuto, which is better known for its annual recognition of the "10 Best Engines", recognizes the interior design of vehicle interiors.
All in all, this year's winners include four luxury vehicles, three budget-priced compact cars, a cross/utility vehicle and a redesigned old-school classic. The list will, no doubt, raise a few eyebrows.
WardsAuto does not rank its winners. However, they are listed below in order of sticker price:
Hyundai Accent ($15,925)
Chevrolet Sonic ($18,745)
Dodge Dart ($21,485)
Volkswagen Beetle ($25,195)
Mazda CX-5 ($30,415)
Hyundai Azera ($36,875)
Chrysler 300 Luxury ($44,855)
Range Rover Evoque ($49,745)
Infiniti JX35 ($54,800)
Audi A7 ($67,430)
WardsAuto says that its editorial staff chose this year's winners from a pool of 40 vehicles with either "new or significantly improved" interior cabins and that "there was no price cap on entries". The interiors were, however, judged on ergonomics, safety, material selection, aesthetics, intuitiveness of controls and overall value.
Drew Winter, WardsAuto World editor-in-chief, says that this year's winners proves that automakers are placing a higher value on car interiors than ever before:
We saw a tremendously diverse group of interiors this year, and it's obvious to us that auto makers are pushing their design staffs harder than ever for interiors that are beautifully appointed, well-equipped and extremely comfortable.
There are too many great interiors in the market for any auto maker to think it can stand pat with its current interior offerings and remain successful. Based on some of the vehicles we have seen at recent auto shows, we can tell the competition among interiors will be fierce in the next few years. [more]
The 2012 interior winners will be honored at the WardsAuto Interiors Conference in May. For a slideshow of all the interiors that won, check out AutoBlog.
Thoughts? Did any cars make the list that shouldn't? What would you add or subtract from it? Tell us in the comments section below.