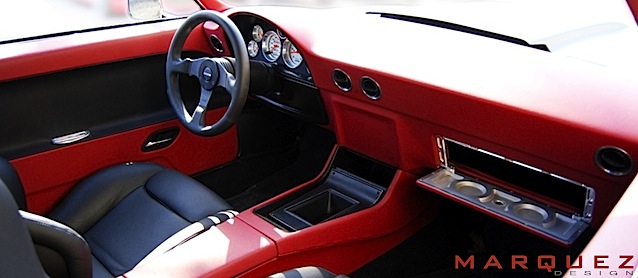 While cruising the Internet, I recently came across Marquez Design – a California-based manufacturer of CNC-milled aftermarket muscle car parts. The company mostly specializes in exterior components (like its line of badass taillights), but what really caught my eye is its interior section.
The company doesn't produce many interior parts, but the ones it does make are impressive. Take, for example, Marquez Design's custom-interior kit for 1967-69 Camaros/Firebirds. The package includes a beautifully redesigned dashboard; 3D-molded door panels; rear deck, trunk lid cover; and a full-board headliner with single-piece pillars that extend from the A-pillar to the rear sail panels.
The entire kit is made from hand-laid fiberglass with a gel-coat finish, and comes ready to be painted or wrapped in leather – saving you loads of time.
At $3,875, the price tag is steep. But when you factor in all the hours it would take you to duplicate the interior and multiply that by your labor rate, it's actually quite reasonable. It also helps that Marquez Design let's you purchase interior parts separately – so, say you don't need a headliner, you don't have to buy one.
I've yet to purchase anything from Marquez Design, but it's now definitely on my radar. For its full product line, check out: www.marquezdesign.com.