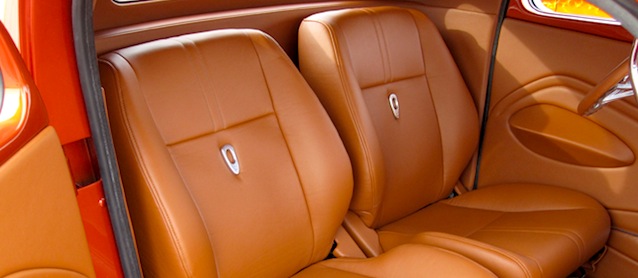 Do you remember those medallions that were attached to the backrest upholstery of car seats back in the late 1960s and early '70s? They came in various geometric shapes and shined in bright chrome. Some even had leather inlays. After vanishing for a few decades, they're back in the street rod interior scene.
While some folks are attaching old or replica fobs on their custom upholstery, others are using more modern-looking ones with chrome and billet finishing. A great source for these are Krist Kustoms and Phipps Rod & Custom Accessories Inc.
Others, who want to add a unique touch to their car's upholstery, are turning to J&B Microfinish – where they can have custom fobs made up in any design they like.
You'd be surprised by how a simple pair of seat fobs can really tie an interior together – especially with the trim on the dash and door panels. They're a great alternative to embroidery and can serve as that finishing touch on a custom interior that you're looking for.
Why not give them a try?