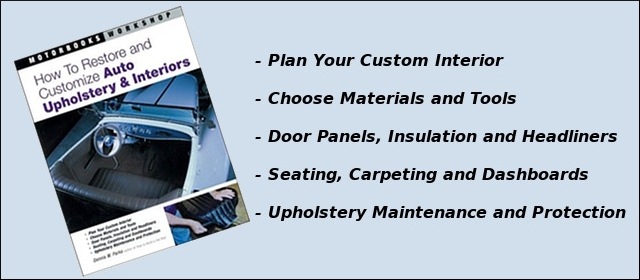 If auto upholstery was offered as a college degree, freshmen would be assigned to read Dennis W. Parks' How to Restore and Customize Auto Upholstery & Interiors. It provides a great introduction to the craft, but – like most freshmen textbooks – falls short on serious instruction.
The reason is simple: Parks is not a professional auto trimmer.
He is, however, a veteran automotive how-to writer who goes to great lengths to shadow and document the work of pros. His book covers nearly every element of a vehicle's interior, provides loads of inspiring photos and even includes a few step-by-step pictorials.
Where Parks suffers is in his style of writing – which favors short summaries over detailed instructions. His tendency to gloss over vital details makes the craft of auto upholstery seem easier than it really is, and provides little help to anyone seriously interested in mastering the craft.
The only folks I can envision finding value in this book are newbies still deciding on whether the craft of auto upholstery is worth pursuing; and project-car owners interested in getting a better handle on what a full interior restoration entails.
I certainly wouldn't recommend this book to any professional looking to pick up a few new tips or tricks – as it doesn't offer any. For that, pick up a copy of Custom Auto Interiors by Don Taylor and Ron Mangus.