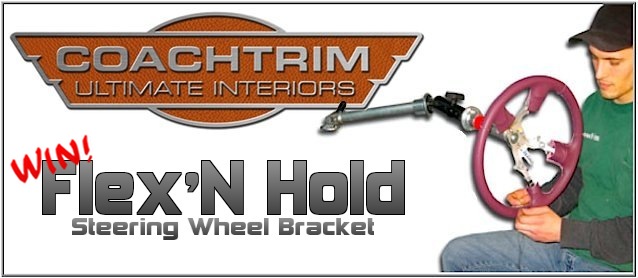 How to wrap a steering wheel has become such a hot topic on The Hog Ring that we've decided to give away the best tool for the job. The reader who leaves the best comment on an article this week will win a Flex'N Hold steering wheel bracket system (value: $195) courtesy of Coachtrim.
The rules are simple. Read any article (new or old) on The Hog Ring and leave a comment. At the end of the week, our editors will choose the best comment and send the person who wrote it the prize.
There are no guideline for a what a great comment is – but past winners have written one's that were helpful, informative or funny. The more coments you leave, the greater your chances of winning!
Special thanks to Coachtrim for donating this week's prize for "Comment of the Week".
Coachtrim is a full-service interior shop in Danbury, Connecticut that prides itself on being a place where "old world craftsmanship meets modern automotive design". For good reason too – their leatherwork is phenomenal! But don't just take our word for it, check out their past projects and see for yourself.
Coachtrim also offers automotive interior training seminars and markets its own products – like the Flex'N Hold. To learn more about Coachtrim, sign up for a training seminar or browse its products, visit www.coachtrim.net.
Our contest for "Comment of the Week" starts today and runs through Sunday. We'll announce the winner on Monday, August 13.