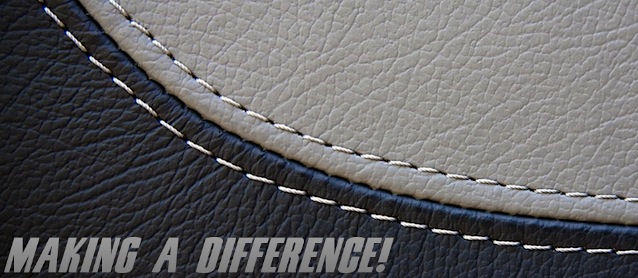 I've always believed that independent auto upholstery shops – like all businesses – should give back to the communities in which they operate. Doing so can strengthen a shop's reputation and attract more customers. But, more importantly, it helps strengthen the social fabric in which we live.
I'd like to acknowledge two shops that recently donated a little bit of time, effort and money to making a difference in the lives of others.
1. Gillin Custom Design in Middletown, New York recently collaborated with other members of the Saturday Night Cruisers Car Club to bring a little bit of joy to a young boy battling muscular dystrophy.
Cody Eisenring, 12, loves to go to car shows and cruises. He has become a familiar face among the car clubs. […]
At the cruises and shows, his parents push Cody around in a strollerlike chair. As he gets older it's getting tougher, but since the cars bring him so much joy, they don't want to deprive him of that. So they do what they can.
President of the Saturday Night Cruisers, Mike Muntz, put out the feelers about acquiring a power chair and it paid off. […]
The chair, donated by Herb Crosby, was fully customized. Gilbert Monge of Gillin Custom Design in Middletown did the upholstery on the seat, Skip Crossman donated the flame graphics and Kevin Anderson of A&R Body Shop in New Windsor who donated the paint and bodywork.
The day of the show, participants and club members stuck it out through a ferocious storm of high winds and heavy rain that blew through. Everyone stayed in support of Cody. The expression on Cody's face when he was presented with the chair was worth the wait. [more]
2. Jerry's Auto Upholstery in Fort Collins, Colorado recently volunteered to install a convertible top on a Mazda Miata donated to single mother Karen Wilson through Project Self-Sufficiency (PS-S). Finally having access to a car has opened a world of opportunity for Karen and her daughter.
Karen describes her story:
Until April 2012, my then 8-year-old child and I had been walking and using the local bus system to get to work and school and do errands while pulling a wheeled cart behind us to carry our belongings. We often found ourselves trudging through deep snow and having to leave the house three and four hours before our scheduled appointment times just to make our bus transfers — appointments that normally would take no more than 20 or 30 minutes to get to when one has an actual vehicle. With frozen hands and feet, we would sing songs and state positive affirmations to get us to our destination. Boy, talk about a humbling experience — an experience that Nikolle and I no longer have to tolerate thanks to the donated 1992 Mazda Miata we received through Project Self-Sufficiency.
Now Nikolle and I can spend less time negotiating the bus system and more time engaging in meaningful activities. For example, Nikolle has enjoyed the Boundless Children's Fund through PS-S, which has funded several art classes for her at the Loveland Art Museum. I was able to increase my work hours since I no longer have to schedule my employment around my ability to get a ride. Having my own car also gave me the opportunity to attend a computer workshop in preparation for starting my business degree at Front Range Community College this fall — an education I could not have considered without the help of PS-S. Nikolle and I are well on our way to self-sufficiency with affordable housing offered by PS-S, a cute, reliable car, and the support of a community of people who believe in giving everyone a chance to succeed. [more]
In hard economic times like these, it's absolutely necessary that neighbors rally to help one another. And who better to lead the charge than small-businesses who are every much a part of their local communities as the people themselves?
I'd like to encourage every independent auto upholstery shop to follow the examples set forth by Gillin Custom Design and Jerry's Auto Upholstery. Let's continue to use our unique skills to help our neighbors.