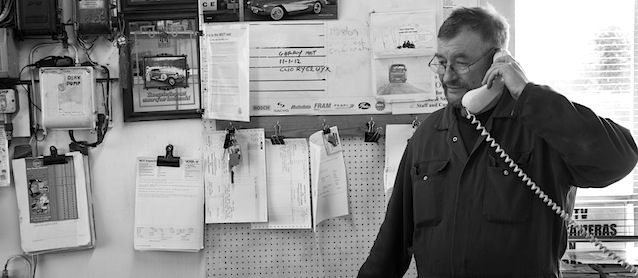 Giving estimates over the phone is a subject that we've covered extensively on The Hog Ring – in both our "Better Business" articles and our "Auto Upholstery Forum". However, it's always great to hear different perspectives.
Harry Weimann, director of education at WyoTech Blairsville, recently authored an article for Hotrod & Restoration Magazine that takes an in-depth look at the pros and cons of giving phone estimates.
Below is an interesting snippet from the piece:
We've all heard potential customers say, "I'm just looking for a ballpark figure and I won't hold you to the price," but we know that this is not always the case. It seems that a lot of the time the only price that people remember is the lowest price quote that they heard. In my opinion, the manner in which phone estimating is handled can be a customer service concern and can determine whether you get the job or not. […]
As we all know, estimating jobs can be difficult, even if you have the car right in front of you. Giving an estimate over the phone can be that much harder. At my shop, I always gave estimates over the phone. In my mind I was providing good customer service by doing so. Now I know that many customers who call for estimates are calling for prices and comparing your price with those of other shops. Giving a low price because you think it will always get you the job isn't always the case; be careful that you don't fall into this trap. [more]
The article also features useful tips and advice on how to turn callers into customers. Examples include extending your shop hours one or two days a week for busy customers to come in; and using social media to give more accurate estimates.
Definitely give the article a read and let us know what you think!