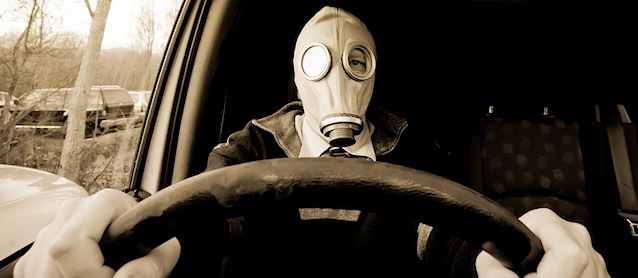 Early last year, a study conducted by researchers at Queen Mary University in London found that car interiors are home to more bacteria than public toilets. Since then, the idea of developing a self-sanitizing car has kept automakers busy.
The biggest advancement, of course, came when Nissan announced that its new NV200 taxi cab would be trimmed in antimicrobial nonstick upholstery. Now, Ford is getting in on the action.
Researchers at Ford and the University of Michigan are experimenting with silver-ion additives to kill odor-causing bacteria. They're putting these additives into waxes and paints that they're using to coat the inside of cars.
Tech-blog GigaOM explains:
Ford Research and Innovation Center engineers have been working with University of Michigan microbial ecologist Blaise Boles to test different materials for microbe resistance. Cars – especially ones that have lost their new car smell – tend to become breeding grounds for colonies of mildew and mold. … And as you might expect, the build-up of those microorganisms produce unpleasant odors. […]
Working with Ford engineers, Boles tested several compounds including ammonium salt and polyolefin wax, but ultimately they found that a silver-ion additive that goes by the trade name Agion was most successful at arresting microbial growth. The silver ions, when infused into a coating or paint, react with microorganisms with which they come in contact – starving, sterilizing and suffocating them so they can't reproduce. […]
Ford has begun putting the Agion-infused coating on interior car parts and has begun testing their efficacy in real world conditions in Ford's developmental vehicles. If those tests prove positive, silver ions may one day be keeping the stink at bay in our cars and trucks. [more]
An advancement that keeps car interiors bacteria- and stink-free sounds good. Auto trimmers know better than anyone else how rancid some car interiors can be. Seriously, what's worse than spending your day cooped up in a car that smells like last week's lunch?
But prolonging new-car smell may not be such a good idea. Earlier this year, researchers found that it's extremely toxic. Hopefully, Ford is taking that research into account as well. I, for one, would rather deal with the stink than risk exposing myself to more hazardous chemicals.