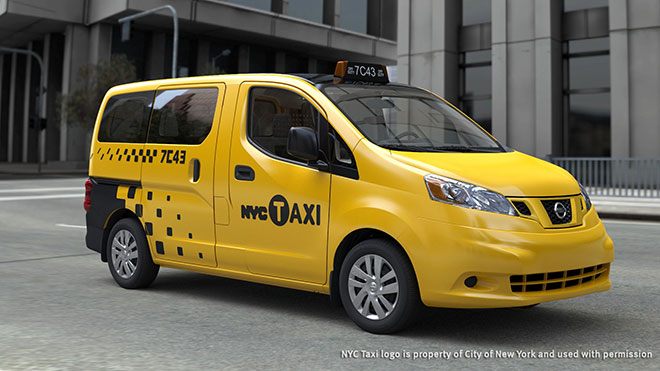 WIRED reports that Nissan just won a 10 year contract (worth over $1 billion) to supply the city of New York with new taxi cabs. The Nissan NV200, a "cleaner, greener" cab, will soon replace the iconic Ford Crown Victoria. So what makes the NV200 so special? For one thing, its interior is trimmed in antimicrobial nonstick upholstery that resembles leather.
If you're anything like me, you're probably thinking: antimicrobial what??? According to CMI, a supplier of Nanocide Antimicrobial fabrics, it's basically vinyl that bacteria can't live on.
We employ a patent pending manufacturing process of permanently embedding nanoscale silver particles, from an EPA registered Oeko-Tex approved source, into our Nanocide®. Since Silver is a natural antimicrobial – microbes and fungi cannot survive in the presence of its silver ions. The equation is simple: the smaller the silver particles, the more silver ions they emit and the more unwelcome microbes are eliminated. Silver enhanced antimicrobial products actively inhibit bacterial growth and show a 99.9% reduction in test microbes and common bacteria.
Strange? Yes, but definitely cool. Especially now that we know most car interiors are dirtier than public toilets.
The Nissan NV200 is also better on gas and a lot roomier than the outgoing Crown Vic. Expect these hand sanitizers on wheels to hit the streets of NYC by 2013.
— — —
The Hog Ring is the #1 online community for auto upholstery professionals and enthusiasts. Here you can browse pictures, read news and connect with others who share your passion for auto upholstery. You can even check us out on Facebook and Twitter!