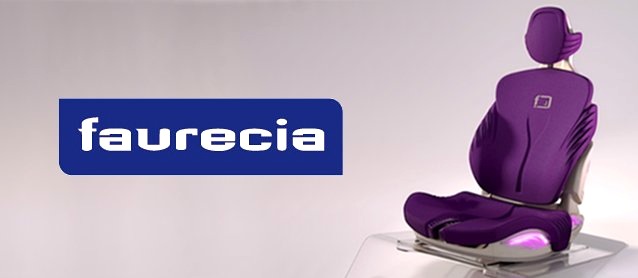 Faurecia, one of the largest automotive interior parts manufacturers in the world, is set to debut it's all-new Urban Rhythm Seat at the upcoming 2012 LA Auto Show. The seat, which functions like nothing we've seen before, is designed to self adjust, so as to maximize occupant comfort.
In a press release issued by Faurecia, the company describes the Urban Rhythm as:
A thin seat incorporating responsive thermoplastic surfaces that adjust to the occupant's body size, shape and posture. Urban Rhythm relies on a compliant plastic seatback, cushion and headrest that work in orchestrated fashion to keep occupants comfortable and protect from whiplash. [more]
In other words, the seat's headrest and seat back adjust with occupants every time they change positions – increasing comfort and safety.
That's not all. In the following video review by CNET, editor Brian Cooley shows how the Urban Rhythm helps keep drivers' bottoms seated firmly in place, makes it easier for short people to see over their steering wheels and even contributes to the comfort of backseat passengers.
Also on display at this year's LA Auto Show is Faurecia's Oasis Seat – which, among other features, comes equipped with surround-sound speakers in the headrest and 20 massage cells positioned from neck to calf.
Clearly, Faurecia is getting serious about personal comfort.