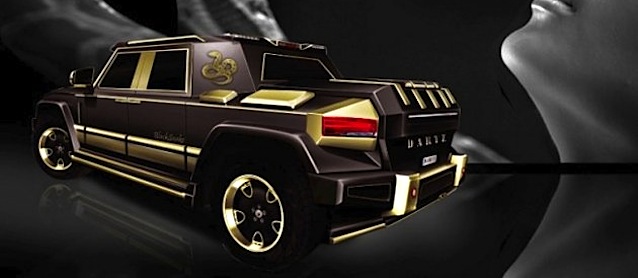 Dartz Motorz Company, a Latvia-based manufacturer of luxury armored cars, is once again making headlines for offering customers the option to trim their cars in leather made from a whale's penis.
Based on the Mercedes-Benz GL 63 AMG, the aptly named "Black Snake" is Dartz's first non-armored vehicle built specifically for the Chinese market. Forbe's magazine explains:
The Black Snake is now the centerpiece of the brand with high performance, all-wheel drive offerings and the usual garnishings of diamond-encrusted hood ornaments. No price has been named, but it's expected to cost well over $1,000,000. […]
The body of the Black Snake is made from space aluminum using the Soviet "kapsula" technology first employed for Joseph Stalin's armored car. The vehicle has a radiator grille with golden flourishes, and the hood of this Chinese edition vehicle will be covered with leaf gold formed like snakeskin. There's even an optional diamond hood ornament from Smolensk Kristall.
The lap of luxury is yours with seats made out of the exotic leather of your choice–snake, crocodile belly, ostrich, and whale penis. The seats feature double topstitching in contrasting colors and DARTZ badges to commemorate the year of the snake. The dashboard, armrests and door paneling come in snake wood. The floor mats made from white shark skin. [more]
As crazy as it sounds, the "Black Snake" is not the first vehicle by Dartz to feature a whale penis interior.
In 2009, the company announced that its Prombron Monaco Red Diamond Edition, the most expensive SUV ever built, would be trimmed in whale foreskin. However, plans were quickly scrapped after whale-loving organizations like Greenpeace and PETA lodged complaints. For one reason or another, plans are back on to use the exotic (and very odd) fabric.
Below is the only full-interior photo of the "Black Snake" released by Dartz.