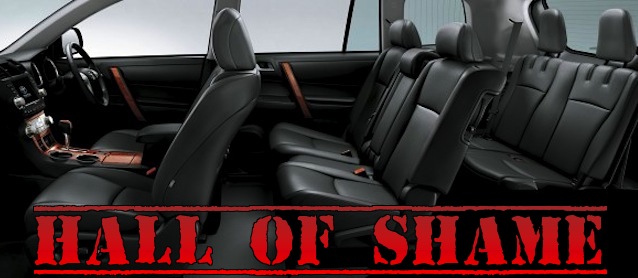 We recently inducted Kia Motors into The Hog Ring's "Hall of Shame" for duping customers into believing that its popular Sportage SUV is trimmed in genuine leather – when, in fact, it features almost no real leather at all.
Sadly, we must now induct Toyota Motor Corporation for a similar offense.
According to the Herald Sun, a popular Aussie newspaper, the Japanese automaker made false claims about leather interiors in several of its models for approximately four years.
Toyota has been busted by the Australian Competition and Consumer Commission for making false claims about leather seats across several car ranges sold between 2005 and 2009.
They were in fact partial or faux leather.
"The ACCC was concerned that consumers were likely to have been misled by these claims. If consumers are prepared to pay a premium to have quality finishes for their car interiors, they are entitled to get what they paid for," ACCC chairman Rod Sims said.
Toyota issued a statement today apologising to customers: "Toyota Australia acknowledges the statement from Australian Competition and Consumer Commission. We apologise if any customer felt they were misled as a result of our advertising." […]
Toyota says that as soon as it became aware of the issue it changed advertising to 'leather accent' or 'leather accented'. [more]
In other words, Toyota – like Kia – is not owning up to its lies. Instead, it's blaming customers for being either unknowledgeable or gullible. And, to make matters worse, is attempting to appease the situation by using another misleading term – "leather accented".
If Toyota was really interested in honest advertising, it would use clear and obvious terms that customers are already familiar with – like faux or synthetic leather.