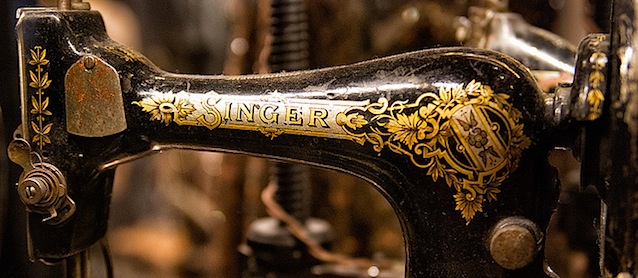 For as long as I can remember, my auto upholstery shop has had an abundance of antique sewing machines lying around.
My father has been collecting them for years. Swap meets, garage sales, flea markets and even curbside trash picking has filled my shop with more machines than I care to count.
Most are a century old and serve no purpose but to take up space – or so I thought.
Not too long ago, my father placed his favorite antique Singer machine on display in our office. To my surprise, it's served as a fantastic conversation piece.
I can't tell you how many customers have commented on it. Most reminisce about the old machines that their grandmothers used, before commenting, "They sure don't build them like that anymore". It's true. The machine my father has on display is over 100 years old and still runs like a champ.
Most importantly, though, it's helped us facilitate sales. The friendly conversations that it's sparked have helped ease customers who are usually wary of a sales pitches, and allowed us to connect with them on an entirely different level. Once a rapport is established, selling a job is a breeze.
Needless to say, I'm shocked. In fact, I remember asking my father on the day that he put his machine on display, "What is that hideous thing doing cluttering my office?"
He assured me that customers would love it. I didn't believe him. To his credit, he's yet to say, "I told you so".
I've even started to come around on their looks. Recently, I stumbled upon a company called Bobbin Antiques that restores and sells vintage sewing machines. Browsing through their collection, I must admit that some are actually quite beautiful. I'm even considering buying one for my father.
I guess I'm finally okay with the idea of my shop putting ONE and only ONE antique sewing machine on display – even if we never actually sew on it. And though I never thought I'd say this, I'm even going to recommend that other shops do the same.
If you already own an antique Singer, polish it and place it where customers will see. You can even figure out how old it is by checking its serial number on SingerSewingMachine.com.