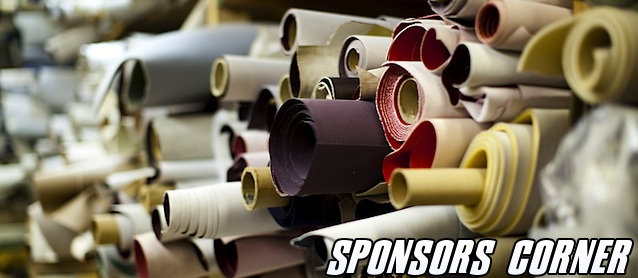 Check out this month's "Sponsors Corner" for news and updates from the companies that help keep The Hog Ring running.
This month's issue of "DLT News" is an open-house edition in which DLT is offering 10% off of EVERYTHING.
Why the huge sale? Because DLT is marking its 100th Anniversary! And, to celebrate, they're hosting an "Open House" event June 7 – 8 in Oak Lawn, IL where you can meet the staff, see presentations from all your favorite manufacturers, take advantage of discounts, win prizes and more! The Hog Ring will even be there, so come say hi!
Click here to download your free copy of "DLT News" – which has a full schedule of events, information on special hotel rates and discount details. It even has part two of our exclusive interview with Sue from Discovery Channel's hit TV show Fast N' Loud.
For more information on DLT Upholstery Supply's products and services, call (800) 458-3500.
Like most of our shops, Electron Top is a family business – so it's no surprise that its team dedicated their May issue of "Keep in Touch" to their 90-year-old mother Kitty Strauss, as well as mothers everywhere. They write:
"May is a special time to honor all Mothers. Mothers are angels and ours is no exception. She is always there for us and never asks for anything in return. This month is dedicated to our Mom and all the other Mom's for their unselfish behavior and loving ways."
For more on Kitty, as well as two loving Mother's Day poems dedicated to her, download your free copy of "Keep in Touch".
With convertible-top season quickly approaching, now is the time to establish a business account with Electron Top – one of the few soft-top suppliers that absolutely refuses to sell direct to the public. For more information on Electron Top's products, contact (800) 221-4476.
DLT Upholstery Supply and Electron Top have signed on to become sponsors of The Hog Ring – championing our cause to strengthen and grow the auto upholstery community, as well as helping to offset the cost of running this website.
Please show your gratitude and support by giving them your business.