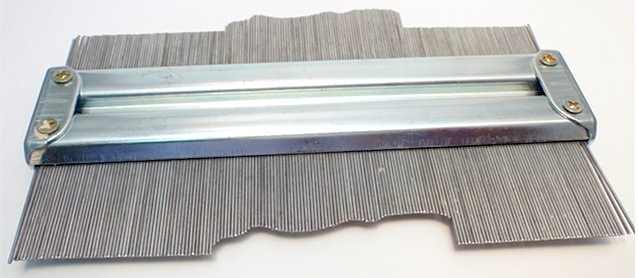 Every craft has its own distinct tools to make jobs more efficient and effective. Being in a multi-discipline trade, auto trimmers can benefit greatly from the tools of other crafts. Here's a creative tool carpenters use that could help on your next custom interior.
Contour gauges are constructed of numerous pins that travel back and forth independently of one another. When pressed against a surface, the pins of the contour gauge mimic its shape perfectly regardless of how complex it is. After locking the pins in place, the profile of the gauge can be traced on panel board, wood, sheet metal or any other material for cutting. Contour gauges come in several different sizes and in either metal or plastic for safely tracing delicate surfaces.
Every auto upholstery shop can benefit by adding a contour gauge to its toolbox. Often times when creating a custom interior, we're faced with the challenge of making panels that will seamlessly butt up against an awkward or curved shape. For example, making a console that fits snug against a dashboard or creating a kick panel with a bottom edge that follows the contour of the floor perfectly.
Copying such curves and transferring them to panel board usually starts with a rough cut on a cardboard template, and gradual additional cuts until it fits snug. The process is long and arduous.
However, contour gauges eliminate the guesswork, giving you a precise fit the very first time.
http://www.youtube.com/watch?v=3AKAHYWJntY
To buy a contour gauge, visit Amazon where they run as cheap as $4.00 each.