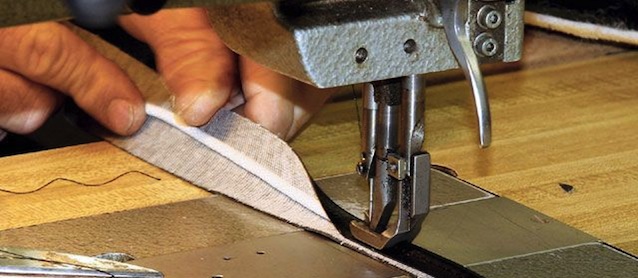 In his last article for Hotrod & Restoration Magazine, Harry Weimann – director of education at WyoTech Blairsville and owner of Weimann's Interiors in Delmont, PA – wrote about the importance of hiring auto upholstery professionals with "soft skills," like a good work ethic and friendly demeanor.
His latest piece adds a new trait to the list. He says that in addition to having "soft skills", upholsterers need to be passionate about what they do. Otherwise, they'll never be successful.
Weimann explains:
Many of today's upholsters learned from their fathers and grandfathers in a shop setting. They started by cleaning the shop and asking a lot of questions. Many learned by taking the interiors out of the vehicles and tearing down the seats. They also spent time cleaning the inside of vehicles and prepping them for the new upholstery. Many people taught themselves; though not the recommended route, it was the road my wife and I took. Having an artistic mind and background and also good mechanical ability was a great help but if I had to point out one thing that worked for me above all it was having passion.
The passion to do the job to the best of my ability and to learn everything I could was a key ingredient to my success. I had the passion to be the best at what I did. Neither my wife nor I ever worked for another shop but we learned the business by being passionate about the work we performed. So going back to earlier in this article, we can include passion when we talk about soft skills. […]
[W]hen looking for that next upholstery guru, be patient. Whether it's you yourself or your new employee, being a good auto upholsterer doesn't happen overnight. There will be many trials and tribulations along the way, but being passionate, patient and understanding is very important. […]
Automotive interior design is a true work of art! Treat it that way, and who knows, you could be the next "new kid on the block" that everyone is talking about and wanting you to do their work!
To learn more about why Weimann believes that passion is important, read his full article: "Interior Insights: Automotive Interior Design".
Tell us what you think: Are "soft skills" and passion just as important as hard, technical skills? Would you hire a trimmer who possesses more of one than another? Share your thoughts in the comments section below.