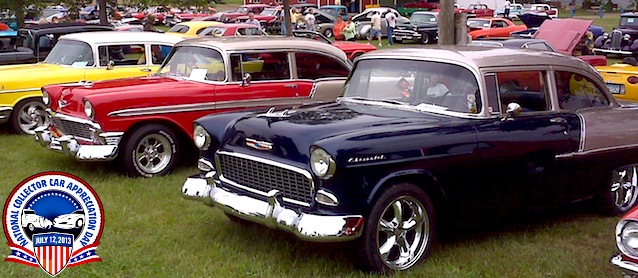 It's official, the U.S. Senate has passed a resolution designating July 12, 2013 as "Collector Car Appreciation Day". SEMA, the organization responsible for helping push the resolution through, says that the annual event is to "celebrate and raise awareness of the vital role automotive restoration and collection plays in American society".
It's also a prime opportunity to promote your auto upholstery shop – right?
Hotrod & Restoration Magazine explains:
The resolution was requested by SEMA and its Automotive Restoration Market Organization (ARMO) and Hot Rod Industry Alliance (HRIA) Councils. The date marks the fourth commemoration of the event, according to SEMA.
"We again thank the U.S. Senate for the continuing recognition of the collector car hobby as a strong American tradition and pastime," said Steve McDonald, SEMA vice president of government affairs. "With Australia and Canada joining the mix, Collector Car Appreciation Day has now become an international recognition of the collector car industry and the millions of hobbyists it supports. The collector car industry helps preserve our unique American automotive heritage while contributing to the economy by providing high-skilled, well-paying jobs." […]
This year, many states and local governments have adopted similar commemorations to celebrate Collector Car Appreciation Day.
"Collector Car Appreciation Day is the opportunity for everyone involved in this great American hobby to show off their cars and celebrate new traditions," said Alex Tainsh, chairman of SEMA's ARMO Council. "Businesses and car clubs across the country will be hosting car shows and cruises. More events are being held to commemorate this special day each year."
To find out how automotive enthusiasts are celebrating in your state, check out the SEMA Action Network's full list of events. Take advantage of the festivities to promote your shop by either sponsoring or participating in a car show. If one isn't being held near you, consider organizing one yourself.
You fix cars. And people are celebrating cars. There isn't any good reason why auto upholstery shops looking to drum up business shouldn't participate. Let's show the country that car interiors are just as important as the body and what's under the hood.