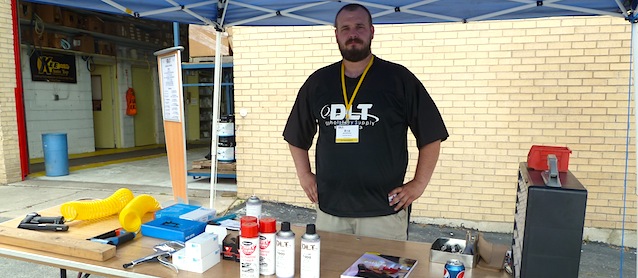 If your staple gun misfires or is no longer firing at all, chances are it needs repair – not replacement. And we know just the man for the job.
We met Rob Martinowski at DLT Upholstery Supply's first annual "Open House" event last month, where he was running a "Staple Gun Check-Up & Repair" booth. While his primary role at DLT is in customer service and inventory, he also happens to be a self-taught staple-gun expert.
That's no overstatement. Rob knows just about everything there is to know about high-grade staple guns. He can diagnose a gun's problem, take it apart and repair it for much less than it would cost you to buy a new one. In fact, he says most repairs only cost about $25.
Here's how you can have Rob service your staple gun:
Call DLT Upholstery Supply at (800) 458-3500 and ask to speak with Rob. He'll either ask you to mail your gun to their warehouse in Oak Lawn, Illinois or drop it off at a nearby branch. When he receives the gun, he'll diagnose its problem and call you with a price estimate. If you agree to the price, he'll repair your gun and ship it back. If you don't, he'll ship the gun back and not charge you for the diagnosis or estimate. You can't lose!
Call Rob even if your staple gun isn't in need of repair. He can give you advice on how to keep it in top shape. Some preventative maintenance tips he shared with us include cleaning our gun once a year with Crazy Cleaner and oiling it frequently with alcohol-based lube as opposed to oil-based lube, which tends to collect dust and cause clogs.
DLT sells all the necessary cleaners, lube and replacement parts you'll need. Of course, they carry high-grade staple guns too.