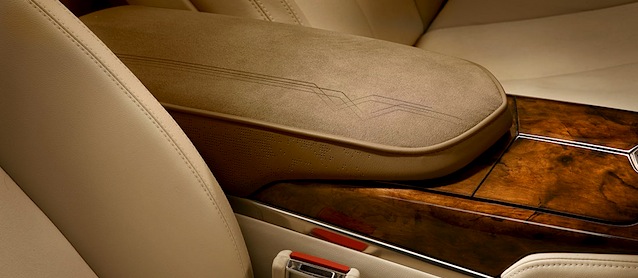 Woodgrain and genuine leather are a time tested combination that's guaranteed to set off any car interior. But matching grains to hides is no easy task. It takes a true understanding of the materials and an eye for high-end aesthetics and luxury.
In a new video, General Motors' vehicle designers explain how they turned to household furniture to influence the look and feel of the 2014 Cadillac XTS' interior.
GM Authority writess:
Just as designers looked upon the use of chrome in luxury watches in selecting chrome trim for the Cadillac XTS, they also researched furnishing trends for inspiration in selecting wood trims, paying close attention to color, tone, and grain movement when combining the wood such as sapele, olive ash, laurel burl and elm cluster with surrounding soft trim materials in the vehicle. Ultimately, designers selected the woods that embody the Cadillac brand and its luxury appeal.
For instance, sapele — a sustainable, fast-growing wood that's known to enrich the sound of acoustic guitars, is offered in tones of "nutella" brown and "raven" black on the 2014 XTS, with its genuine nature and richness offering a lot of movement. […]
Outside of material-specific details, the interior of the XTS was also designed to provide a feeling of spaciousness, with various elements naturally flowing into each another.
"The woods featured in the XTS are purposefully placed to make the width and space of the interior feel as roomy as possible," said Cadillac director of design Eric Clough. [more]
Watch the video to see for yourself:
http://youtu.be/bhY8cOM5ClE