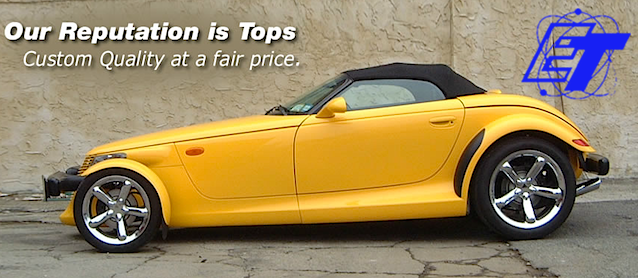 The August issue of "Keep in Touch!" – Electron Top's monthly newsletter – is out. Give it a read to learn about all their new sales and promotions.
Among them, Electron Top is implementing an OEM extrusion-trade program for all 2005-2009 Chrysler Crossfire tops. Electron Top explains:
In order for us to produce the 2005-09 Chrysler Crossfire top (CH5460) WE need the four extrusions from the OEM top. There are 2 Channel Flap extrusions and 2 quarter extrusions behind the door glass – if you need help – call us.
In the past WE have asked you to send us the extrusions ahead of time but this is time consuming for all parties involved. We now offer, in addition to our past procedure, an option for a core charge of $350 to use OEM extrusions that WE have collected. This core charge will be credited back to your account when we receive your extrusions.
What's more, Electron Top is announcing that its 2014 catalog will soon be available. We'll keep you posted on when it's ready!
This month's issue ends with a "thank you" to all Electron Top's customers and a reminder that it's one of the few companies left who do not sell directly to the public:
As you may or may not know, "WE do not sell retail". We rely solely on the sales from Upholstery Shops and Upholstery Distributors. WE do not have the ability to visit you at your place of business so from time to time WE may call just to "Keep in Touch". Please know the absence of our visits is not a reflection of our gratitude for the business and support you give us all year long.
Of course, "Keep in Touch!" wouldn't be complete without a nice parting thought. This month's issue salutes all those brave American men and women who serve in our armed forces.
Download your free copy of "Keep in Touch!" by clicking here. For more information on Electron Top's products, contact (800) 221-4476.