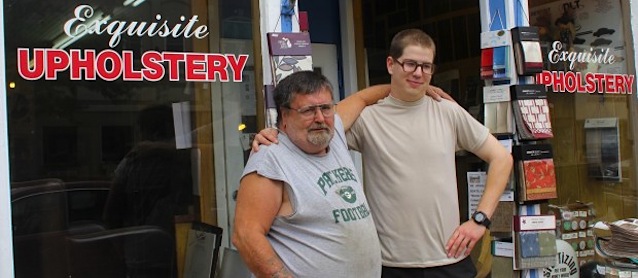 Mark Lambrecht of Exquisite Upholstery in Reedsburg, WI was recently profiled in the local Times-Press – discussing his 35-year career as a second-generation upholsterer, some of the most unique projects he's worked on and the possibility of passing his shop on to his son. If you're as curious as I am about other upholstery shops, give it a read.
Here's an excerpt from the article:
"My dad did it and I got into it," he said. "You've got to take your time when you're doing this. It's more art than anything. It's not just a job." […]
Lambrecht said he couldn't keep up with the business without the help of his son, Chris Lehmann, who has another job, plus is in the Army National Guard. Lehmann said he likes helping and might someday take over the business.
The business is not just a way to make money. To Lambrecht, it's his name and pride in his work.
"My name goes under everything I do," he said. "I staple my card and put the date on the bottom of everything." […]
Lambrecht will continue in the business, he said, for the next five, or 10, or maybe even 20 years. Every day is unique and interesting, he explained.
"The best thing," he said, "is the satisfaction when things are done right." [more]
To read the full article, check out "I can fix any seat crack". To read more about other upholstery businesses, visit the "Shop Profiles" section of The Hog Ring.