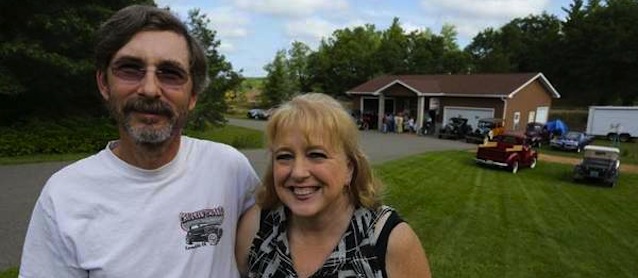 Every auto upholstery shop has a backstory. Perfect Upholstery LLC in Weston, Wi has one of the most unique we've heard in a long time. What started as a Saturday morning breakfast meet up for car enthusiasts "snowballed" into a thriving auto upholstery shop.
Owners Mark & Alice Sliwicki recently told their story to the Wausau Daily Herald:
Originally, the idea was for a bunch of car nuts to meet Saturday mornings at Mark Sliwicki's new garage for breakfast and to work on their vehicles.
"Except that we never worked on the cars," said Mark, 56. "We just had breakfast and started talking about what happened yesterday, and what happened in the last week."
That was more than a decade ago, and the garage has been a meeting place for car enthusiasts such as Mark and his wife, Alice, ever since. […]
It's no ordinary garage. It's a hybrid clubhouse and auto shop, and Mark and Alice use it to restore and store their own fleet of antique vehicles…
The shop also has a kind of dining room, and a bar at which people can sit around. It's packed to the gills with auto memorabilia, and when the group meets, it also gets filled with laughing, teasing and exaggerated story-telling.
The Sliwickis call it "Uncle Jack's Brew & Chew and Words of Wisdom," and it's such a welcoming place that people just keep going back again and again. It's not about the building, and it's not about the cars, they say. […]
Along the way, Mark and Alice attended an upholstery school in California, a yearlong program they enrolled in so they could better restore their own cars. After they graduated, they opened Perfect Upholstery, in which they specialize in recreating old auto and truck seats and other interior items.
The business has "just snowballed," Mark said.
The Sliwickis have found a way to blend passion, family, fun, friends and business in a seamless way that has developed into the Saturday morning breakfast gatherings. [more]
Despite their success, the Sliwickis have maintained their Saturday morning breakfast tradition. In fact, it's how they attract a lot of their new customers. How's that for a marketing strategy?
To read the full article, check out "Weston couple's backyard garage has become a clubhouse for car lovers". To read more about other upholstery businesses, visit the "Shop Profiles" section of The Hog Ring.