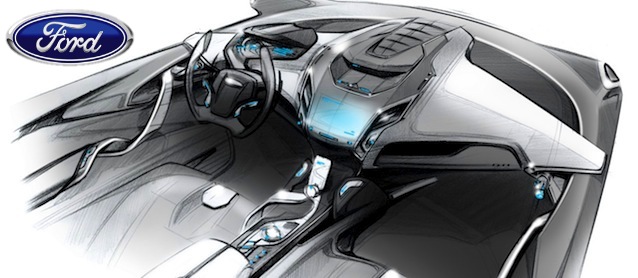 Motor Trades Insight recently interviewed Ernst Reim, chief interior designer for Ford Motor Company's Europe division, to learn about what inspires and motivates his designs. His answers offer insight into the materials, architecture and design cues of Ford's latest interiors; and hint to what we can expect in the future.
Below is an excerpt from the interview in which Reim discusses fashion's influence on auto upholstery and the question of leather vs. vinyl, two subjects we've explored in depth on The Hog Ring.
What pressures and challenges are you facing as a designer over the next few years? And is fashion playing a greater role in influencing Ford's designs?
Oh yeah, this is a big influence. Normally, designers are linked to architecture and industrial design, but now the fashion industry is also having a big influence so there are the trendy colours and we also have the fabrics.
Generally, new technology for fabrics is coming in. We can tweak them in a completely historic way so that there are different fabrics and leathers on top. We really can experiment with new materials and create completely new scenarios so it is completely open now.
For every young designer, he can express himself by throwing everything into the development of a built or un-built truck.
Do you feel synthetic leather is an environmentally friendly alternative to real leather?
No, no. I think you always have to have a good compromise. There are big differences in the quality of leather itself. There are different suppliers. I don't want to mention names. But there are big differences in the real leather quality and with some vinyl suppliers, they are delivering some vinyl textures and new fabrics in a way that you think, 'even experts will not believe that this is vinyl'.
So the pressure for us now is 'in what areas do we want to place it?'
For example, the areas where you touch, where you sit and where you grab. On the steering wheel, you definitely want real quality leather. It's a premium feel and it will always be. So you'll never have vinyl leather in these areas but in the deck of the seat, for example, where you don't have this contact with the material, I think there's some compromise possible. Sometimes.
So there's always the progression of why do you want to use it. But in total, there's nothing better than the real leather quality with a good supplier.
Reim has overseen the interior designs of the latest Fiesta, Mondeo, Focus, B-Max and C-Max – so he definitely knows what he's talking about. To read his full interview, visit Motor Trades Insight.