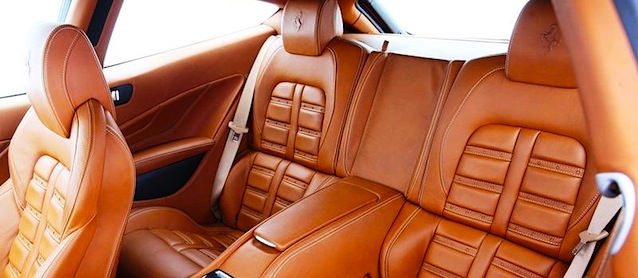 Captain's chairs that detect looming heart attacks, active perfuming systems, even transparent backseats – you name, cars have it. So why is it that with all this technology, drivers still ask us to trim their cabins in old-fashioned leather hides?
BusinessWeek thinks it has the answer. Tell us if you agree.
Reporter James Tarmy writes:
Turns out, the problem isn't with car companies. It's with consumer demand. There are some extremely sophisticated synthetic alternatives out there that customers just don't want. "There are a lot of tech materials being developed for the automotive industry," says Sandy McGill, a BMW Design Works lead designer based in Los Angeles. "You can get different functionality from the textiles, with ceramic impregnated in them with cooling and warming benefits."
There's material technology, in other words, that's outpaced leather by a mile, but it's hard to shake the perception of natural hides being synonymous with luxury. "There is this traditional mentality," says McGill. "People want leather in their cars."
Why have people been so quick to adopt new technology (touchscreen navigation controls, for example), but so hesitant to try alternative fabrics? McGill sites the breakneck speed of development as precisely the reason that people still gravitate to leather. "We're living in the world of digital media," she says. "Leather is associated with sensuality and nature. That's why it will still be desirable in the future." […]
McGill thinks the catalyst for change will come from the top of the luxury market and work its way down. "Alcantara is a synthetic suede from Italy. It's very fine, it's very consistent in its texture, and we originally thought it would be used in seats for race cars, because it grips you and holds you in your seat," she says. "I see Alcantara as breaking into the leather barrier," she continues. "Once something aside from leather is acceptable on the seat, then other things will be too." [more]
While there's merit to what Tarmy writes, I can't say that I entirely agree. Having grown up in the auto upholstery industry, I'm aware of the drawbacks to leather, as well as all the benefits to using other, more technologically advanced materials. Still, I prefer a supple hide over anything else.
For me, nothing quite matches the look, feel and smell of real leather. Sure, today's imitations are convincing, but they're missing that certain unexplainable essence of the genuine article. Those beautiful imperfections, the care it requires to stay in fine shape, the way it sets and wears depending on the hell you put it through, and – of course – that feeling of quality craftsmanship.
To me, it's not about luxury at all. It's about authenticity. What do you think?