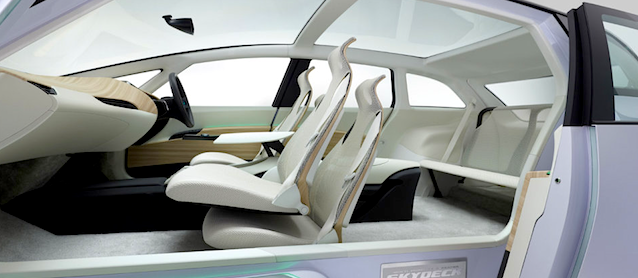 In 2009, Honda Motor Company debuted the Skydeck, a hybrid minivan concept that instantly made headlines. It drew crowds for its sporty low-slung stance, scissor/sliding-door combination, all-glass roof and translucent green wheels. Needless to say, it was no ordinary minivan.
However, what captivated us – and still does – are its floating seats. We're wondering, why hasn't the design gone into production yet?
The Honda Skydeck features mesh seats that aren't bolted to the floor, but sit on hinges attached to its center console. The effect is not only seats that appear to float, but are stackable too. The design is so simple, sleek and stunning, you'd think engineers from Apple and Ikea collaborated to make it.
Take a look for yourself:
How awesome is that? It's been four years since the Skydeck's debut and we're still waiting for Honda to incorporate the seat design into one of its production-model vehicles. Needless to say, that can't come soon enough!