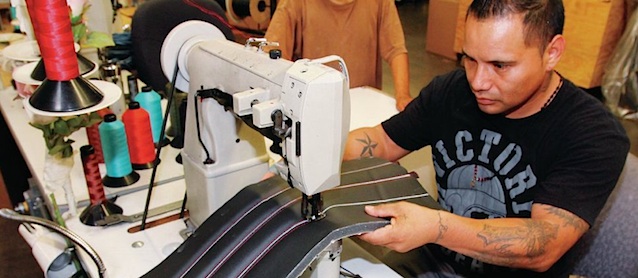 Over the last couple months, Lowrider Magazine has been documenting the complete restoration of a 1968 Chevrolet Impala SS dubbed "Project FearleSS." Their most recent stop on the journey took them to Distinctive Industries in Santa Fe Springs, CA, where trimmers, under the leadership of Research & Development Specialist Fernando Rodriguez, got to work on the upholstery.
Lowrider Magazine published a photo essay on the project that offers a unique, behind-the-scenes look at the popular auto upholstery shop. Check it out!
Describing the new interior as "modern times," Lowrider Magazine writes:
We combined the stock aspects of a '68 SS Impala and the modern day performance amenities of an updated drivetrain, and so in today's tech article we bring you the modern times upholstery for the projects interior. […]
Distinctive Industries has been around for over 40 years and the company specializes in classic car interiors. With the capabilities of building a complete interior from scratch, this project was nothing hard for their expert team. The hardest aspect of this build was to choose a design and color for the interior. Some of the design elements included eliminating the factory welts and replacing them with a double stitch design. They are also building the interior using real leather, instead of the original vinyl, which was sometimes known to make you sweat during hot weather drives.
To see the photo essay, visit "Project FearleSS Interior – Restoration."