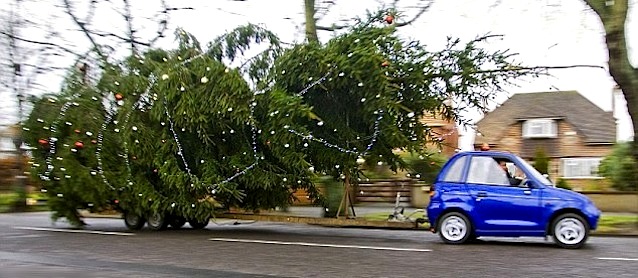 Following the holiday season, most Christmas trees turn to mulch or firewood — but Lincoln Motor Company is keen on changing that. The automaker recently partnered with Weyerhaeuser, a private timber company, and Johnson Controls, one of the world's leading automotive interior developers, to transform the trees into a renewable alternative to fiberglass that can be used in vehicle interiors.
News website Environmental Leader explains:
Using tree-harvested natural fibers in place of traditional glass-based fibers, Weyerhaeuser created Cellulose Reinforced Polypropylene (CRP). The product, which the company says is lighter and more eco-friendly than fiberglass, in a production vehicle is slated for introduction on 2014 model year Lincoln MKX vehicles built early next year.
Cellulose Reinforced Polypropylene replaces the fiberglass material traditionally used in the floor console armrest substrate — a structural piece located within the center console armrest. Pieces made from CRP are about 6 percent lighter, and decrease the reliance on less-environmentally friendly fiberglass parts. [more]
If all goes well for the Lincoln MKX, Ellen Lee, plastics research technical expert for Ford, says the automaker may use the material to construct other interior parts — potentially resulting in lighter vehicles and better fuel economy.
Of course, this isn't the first time we hear of automakers constructing interiors out of plants. In fact, "green interiors" is a fast-growing trend within the auto industry.
Personally, I'm all for turning Christmas trees into car parts. We've been hanging "royal pine" air fresheners from our rearview mirrors for years. It was only a matter of time before we started building our cars out of them.