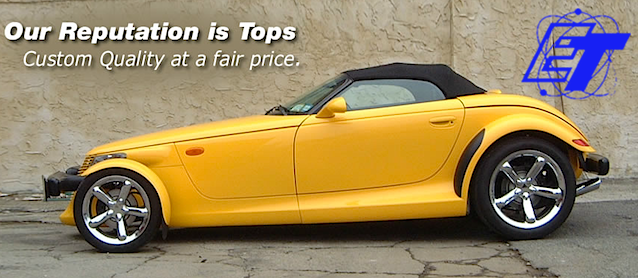 We're fortunate to work in an industry that's replete with reputable suppliers and manufacturers that stand behind their products. However, it's still important to familiarize ourselves with their warranty programs.
Electron Top, one of the upholstery industry's leading manufacturers of quality replacement convertible tops, recently issued a new warranty card that every trimmer should take note of.
Below is an excerpt from the warranty card, which will be shipped with each of their convertible tops and window assemblies. Take note how it puts trimmers front and center, encouraging vehicle owners to only have professionals do their installs.
Electron Top's products are made with the finest materials and workmanship available. We are not responsible for the way in which our products are installed by the installer. We recommend only having our products installed by Craftsman operating Upholstery Shops or Trim Shops.
The use of any citrus, petroleum or abrasive cleaners are not recommended by the manufacturers of the materials, the use will void our warranty. We carry a full line of recommended convertible top, plastic window and interior cleaning and protectant products. Please call us for a full description, pricing and ordering information.
Download the full warranty card by clicking here, and study the details so you're familiar with your rights as a consumer. Also, share it with your customers so that they'll be confident about the quality of their new top or window.
One more thing! Electron Top will be running a free shipping promotion on many of their most popular top and window combos. The promotion lasts until March 31, 2014. Expect to receive your flier in the mail.
For more information on Electron Top's products, visit ElectronTop.com or call (800) 221-4476.