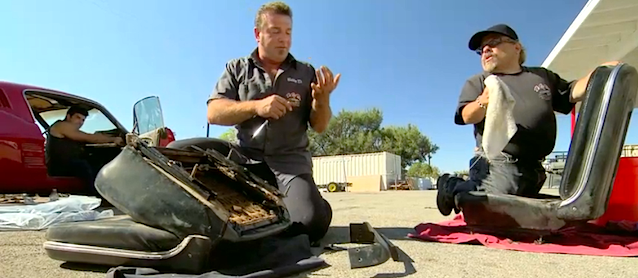 On tonight's episode of Discovery Channel's new car series "Rods N' Wheels," the crew at Da Rod Shop find out first hand why it's best to leave upholstery work to the professionals.
After finishing the body and paint on their latest project, a 1967 Ford Mustang, father and son team Billy Sr. and Billy Jr. decided to take on the interior themselves. They purchased an aftermarket upholstery kit and got to work. However, it didn't take long for them to realize they were in over their heads.
"This kit we got for the Mustang looks simple enough in the box, but let me tell you it's a lot harder than it looks and it is not fun doing upholstery." Billy Sr. said.
After a day of struggling with the upholstery under the hot sun, Billy Sr. and Billy Jr. developed a newfound appreciation for our craft and their go-to upholstery guru Dan Miller.
We recently spoke with Billy Sr. when we interviewed him for our article "10 Questions for the Stars of Rods N' Wheels." When we asked him about his personal experience with upholstery work, he brought up the story of the Mustang featured on tonight's episode and said:
"To me, upholstery is one of those things that's a specialty like vascular surgery. I mean, I think you should be only an upholsterer when you do upholstery. Nothing else.
"These guys that try to cross over and are all-over designers and they do mechanical work and body, no way. It's such a specialty. Are you kidding me? It would take away from the skill it takes to do an interior to say you should be more than an upholsterer."
Hopefully tonight's episode will inform viewers that aftermarket interior packages aren't as simple to install as some companies lead car owners to believe, and that only professional auto upholstery shops have the knowledge and experience to ensure a perfect fit and finish.
Watch tonight's episode of "Rods N' Wheels" on Discovery Channel at 9/8 c to see how the Mustang turns out. For a sneak peak, check out the following clip: