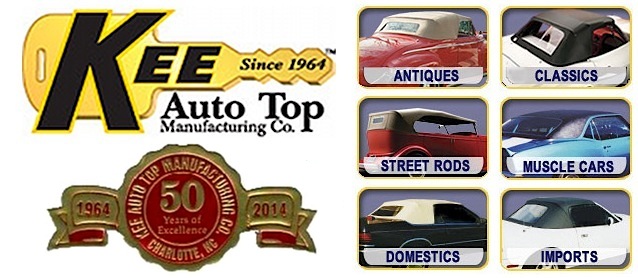 With summer around the corner, Kee Auto Top published a helpful guide to maintaining convertible top hydraulic systems in its March newsletter. It's a must read for every auto trimmer who repairs or installs convertible tops.
"By following these guidelines before you begin the installation, you will save yourself time," writes Kee Auto Top. "It will also be money in your pocket by including this as part of your labor/fee to the customer."
Convertible Hydraulic System
Tools and Supplies — 3 quarts of fluid. Cars older than 1953 use DOT-3 brake fluid. Cars 1953 and up use brake fluid or automatic transmission fluid. Cars prior to 1953 may use ATF if all new hoses have been installed.
Caution — brake fluid destroys paint. A turkey baster is a great tool to fill pumps with a filler plug. You may also use an oil can or bleeder system
When adding fluid to a hydraulic system (located in the trunk area of the car directly behind the back seat and under the well-liner), we suggest the following:
1. Check the owners manual for type of fluid used.
2. The rubber sealing plug has a hollow hole in it. Use an aull/punch with the end ground down where it will fit in the hole of the plug. Do not punch all the way through.
3. Use oil around the edge of the plug to lubricate for each insertion.
4. Remember to bleed the system. Example: work the convertible top up and down several times, wait at least an hour to make sure there is not any air in the fluid line.
5. Then refill as necessary. Be sure to listen to the motor for a continuous flow without hesitation.
6. For best result, fill 75% full while bleeding the system.
That's not all. This month's newsletter features new products and promotions in celebration of Kee Auto Top's 50th anniversary. Among them, Kee introduces 2004-2009 Toyota Solara convertible tops with defroster glass — available in black and beige Stayfast/Topline cloth.
Also new is Thermozite, a sound deflector and heat barrier solution for engine hatch covers, hot rods, RV's, door panels and firewalls. Earth-friendly shops will be happy to learn that it's made of Eco-fi, an environmentally sustainable polyester fiber derived from BPA-free recycled plastic drinking bottles.
Download your free copy of Kee Auto Top's March newsletter by clicking here. For additional information on their products, visit KeeAutoTop.com or give them a call at (800) 241-7046.
You can also register for their e-newsletter by emailing info@keeautotop.com. Doing so gives you access to secret specials — so sign up today!