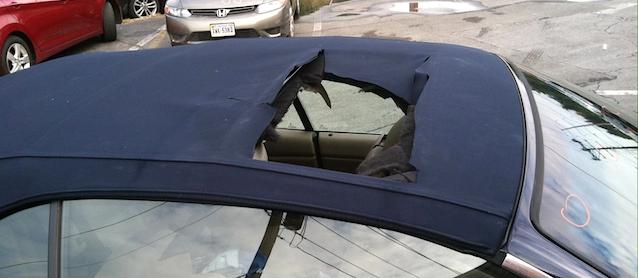 The Hog Ring is geared toward professional auto upholsterers, not the DIY or hobbyist communities. However, we're going to make an exception to publish the following warning — issued by Electron Top — to shoppers who aim to save a few bucks by ordering off-brand convertible tops online.
In a statement published on Electron Top's website, the company warns of how purchasing convertible tops online and bringing them to upholstery shops to install could backfire.
When you purchase a top online with the intention of bringing it to an upholsterer to install, it is similar to bringing your own food to a restaurant and asking them to cook it.
Upholsterers are usually owners and operators of their own business. They need to make money to stay in business, which includes a mark up on the products they carry, but this does not mean they are taking advantage of you.
The mark up they make on the products they trust insures you will receive a warrantee for the product they supply, they will be willing to handle any problems you may have in the future and they will do their best to make sure you are happy with the job they do.
Reputable Upholsterers are fair and interested in maintaining their reputation; it is best to let them get the product for you.
In addition, Upholsterers establish relationships with their manufacturers/suppliers. If something goes awry with the product they have recommended they have the responsibility of getting it taken care of with the manufacturer/supplier. What chance would you have?
The warning continues with a thorough explanation of what customers should do when they need a new convertible top and why purchasing one from an auto upholstery shop that works with a reputable manufacturer/supplier matters. Click here to read the full warning.
I'm going to print out the warning and hang it on the wall in our showroom.